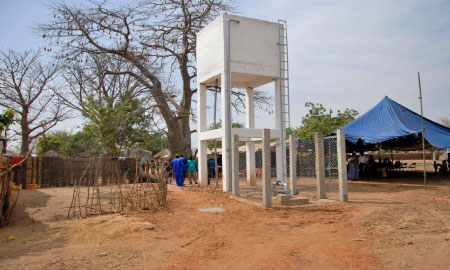 The Rural Development Organisation (RDO), a non profit making organisation over the weekend commissioned a water and community livelihood projects in Dutabullu village, North Bank Region.
The project, which has four components, namely water for people, water for livestock, and water for gardening and solar for electricity, is envisaged to improve the livelihood conditions of local people, thus creating economic empowerment and enhancing poverty reduction.
Mr. Malang Fatty, RDO's Chief Executive Officer, said the project's overall objective was to support local people in improving their standards of living, through creating opportunities for more community participation in food and agricultural production.
"The project we are commissioning today, started with a series of planning meetings with the community, which led to the drafting and signing of a Memorandum of Understanding between the Community of Dutabullu and Rural Development Organisation to work together in a common interest," he added.
According to him, the project was funded by Stiftung Saba Lou, a German-based charitable organisation.
He disclosed that Doms Enterprise, which is a well-drilling company in The Gambia, was awarded the contract to drill the borehole, based on standard of best practices.
Malang said within a short period of time the project has drilled a 60-meter long borehole, constructed concrete water tanks to provide clean drinking water for livestock and horticultural gardening, with the objective of enhancing food security and reduced poverty level of the community.
"The materials needed for the construction were provided by RDO, through our partners in German and community of Dutabullu, who participated in the fencing of one hectare horticultural garden and building of reservoirs for cattle drinking points as part of their counterpart contribution," he said.
Mr. Biggy Jallow, the Alkalo of the community, who spoke at length on the importance of the project, said with the intervention of the RDO project local people will now make the best use of the facilities available to them.
While noting that their cattle and livestock suffers a lot during the dry season, in search of water and pasture, he said some of them die in the process, thanks to the timely intervention of RDO and their partners .
"Our livestock are our bank accounts and assets, any step towards protecting and preserving our bank accounts is a step in the right direction," he said.
He assured RDO that committees would be put in place to ensure the facilities are maintained for its rightly purpose, and that part of the proceeds from the garden and milk production would be kept for maintenance.
One Penda Bah, women's representation, said they have already commenced cultivation in the garden, and that expectations are very high in the production of vegetables.
Read Other Articles In Article (Archive)