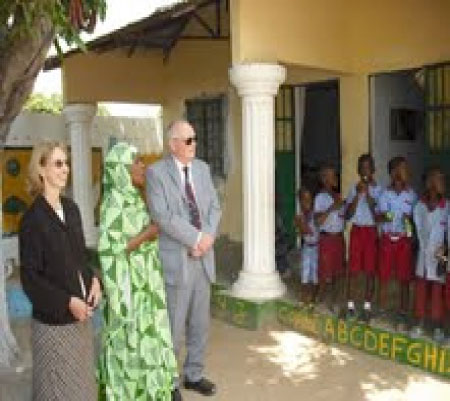 The British High Commissioner to The Gambia, David Morley, recently visited projects being implemented by Gunjur Marlborough Link in Kombo South in the West Coast Region.
The projects visited included the women's horticultural garden, pre-school, and a five-class room block, milling machine for women, a water project and Trust Agency for Rural Development (Tarud).
As part of the visit, High Commissioner Morley and delegation was taken on a conducted tour of the projects being implemented by the Link in Gunjur with members of his staff and a delegation from Marlborough led by Dr Nick Maurice.
During his visit, Mr Morley expressed delight about the strong and well-established links between the community of Gunjur and the Marlborough Brandt Group (MBG), adding that the MBG was founded in 1981 to help foster better relations between industrial and developing countries. Since then The Gambia has come a long way.
Mr. Morley stated that Marlborough and Gunjur have demonstrated through the MBG that the objective of the link is to foster commitment, understanding and solidarity between people and nations that can really work.
Mr. Morley said the fact that the link has worked so well for more than 25 years really demonstrates the benefit of partnership, and also fostering the concept of the big community.
"But what I see before me is a great example of a really big community of thousands of miles apart, but with a strong long lasting and vibrant relationship between the two communities," he said.
For his part, the founder and president of Marlborough Brandt Group, Dr Nick Maurice, enunciated: "I am extremely delighted the British High Commissioner has come here to visit our projects .We have made visits to British High Commissioners in the past. This is the first time a British High Commissioner has come to Gunjur to witness the thirty-year relationship between the people of Gunjur and Marlborough in the United Kingdom."
Mr. Maurice continued: "David Morley is clearly an exceptional man. I had met him back in October and asked him whether he would, in principle, agree to visit us in Gunjur and he said he would in fact visit us in practice .The instant comments he made during the day indicated to me he was extremely impressed with our projects.
"Most of the time when I come here with young people I recognize that they cry as they climb the steps of the plane. I would ask them when we get back in the UK why they were crying and almost all of them without exception would tell me they have established a strong friendship with the people of Gunjur. Theywould also tell me they have recognised a social wealth that we have lost back in the UK. I see a lot of social integration, social cohesion, humour and friendship, which we have lost in the UK."
Read Other Articles In Article (Archive)