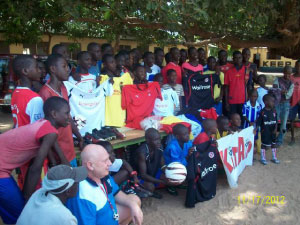 British couple John and Cristin Maxwell from Swindon, the UK, on 17 November 2012 presented sets of jerseys, footballs, corns, beeps and football boots to BJ's Football Academy and Ndikir Kunda Football Club in Upper Fuladu West, Central River Region North at a presentation ceremony held at Latri Kunda Sarbiji Lower Basic School grounds.
Speaking at the presentation, John Maxwell said he had been coming to The Gambia for the past three years and that he first came with Swindon College and had a football coaching programme in Ndikir Kunda.
He added that the materials presented to BJ's Academy and Ndikir Kunda FC are supplied by a group called Kitaid, founded a number of years ago by David William. He thanked all those in Swindon who have been supporting by giving them kits, especially schools and Christian churches.
He added that they hope to come back to The Gambia in March to bring more sports equipment, as their objective is to promote football in the country.
Musa Jallow, chairman of BJ's Academy who is also a village executive at Ndikir Kunda, said he came to know Mr Maxwell three years ago and after discussing with him about activities involving sport he showed interest in the young talented ones in The Gambia and promised that when he got back to the UK he would try to help with sports materials.
He added that Mr Maxwell has been doing a wonderful job for BJ's Academy and Ndikir Kunda and that they are very happy with the gesture.
 "We welcome and appreciate what he is doing," he said, adding that the main constraints they face are lack of football, corns and other training materials but thank God Mr Maxwell had intervened in alleviating these constraints.
Bubacarr Jallow, founder and coach of BJ's Football Academy, said they are very grateful to Mr Maxwell because this is the third year he has been helping them.  All the materials they used during the nawetan competition were given to them by Mr Maxwell, he disclosed.
Musa Jallow was the one who linked them to Mr Maxwell, he said, adding that if they were not getting help from Mr Maxwell it was going to be very difficult for them because running football in The Gambia is very expensive and difficult, especially if one does not have financial backing.
"It is difficult for people to spend their money in football in The Gambia," he remarked, saying sports material are expensive.
Jallow, who guided BJ's Academy to both quarterfinals (league and knockout) of this year's Serrekunda East Sports Development Organisation Nawetan Competition, stated that they use the nawetan to expose their players to matches and competitions to gain experience and not necessarily to win trophies, which he thinks will help them to do more in next year's nawetan because "it will attract more players coming to join the academy".
Read Other Articles In Article (Archive)