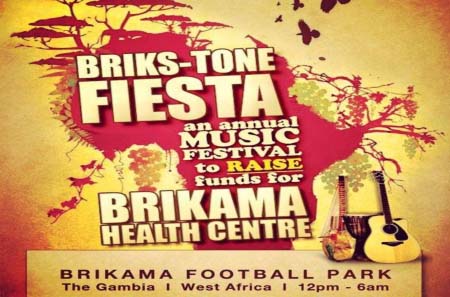 The 6th annual music and cultural festival, the Briks-Tone Fiesta, usually organised by the Badinyaa One Family Promotions Production in Brikama, The Gambia, and the Stand Tall Promotions in Glasgow, Scotland, is slated for 21st March 2015 at Brikama Joko.
The theme of this year's fiesta is: "Celebrating our national heritage and culture, to enhance health and development", and it is intended to raise funds for the Brikama Major Health Centre (BMHC) as part of Badinyaa's endeavour to promote health.
The event will be inclusive of all kinds of music such as traditional, and western music such as reggae, dancehall, rap and hip-hop.
The festival will be a day and night musical cultural festival, and artistes lined up for the event include Street Thug (ST), Pa Bobo Jobarteh and Touba Kaira Band, Jali kebba Kuyateh, Jaliba Kuyateh and Kumareh Band, OTitta cultural group, Balla-Ranks, Badibunka, Phylantrophy, Idealistic, Prince Melo, JulaK, Benjahmin, Almaska, Artenola, Jalex, NatyEazy, Nova, Nyancho and E-Nyassi to be backed by One Tribe Sound.
Alieu Darboe, national coordinator Badinyaa One Family Promotions Production, said they are raising funds for the health centre, and as well uplifting Gambian music and artistes to higher heights.
"We also want to give new artistes the platform to expose their creativity to a wider audience by sharing the same stage with internationally-renowned singers and DJs," he said.
Sulayman Sanyang alias Marshal Talisman, Chief Executive Officer Badinyaa, said all is set for the fiesta,meant to raise fund for Brikama Health Centre.
"We are calling on all to join us in thisnoble cause of raising funds for our people," said Marshal, who is also a 'Goodwill Ambassador' of the Brikama Major Health Centre.
Read Other Articles In Article (Archive)