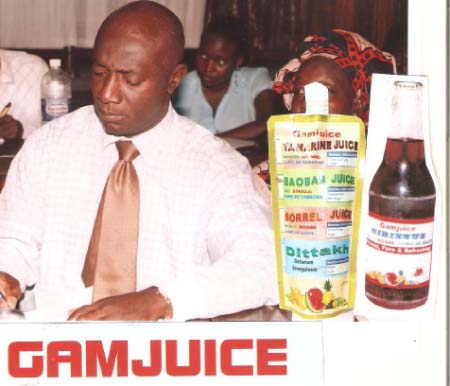 The Chief Executive Officer of Gamjuice Organic, Isaac Thomas, has disclosed his intention of seeing the Gambia as a leading exporter in Africa as well as in the international market.
It was as a result of this good intention for the country, he established Gamjuice Organic, which manufactures different types of juices including mango, wonjo, ginger, daharr, bui, dittahk, and lime juice which (all are 100% organic juices).
Their product he said are a healthy juices, and they also produce hot pepper sauce (made from 100% Gambian pepper).
Speaking in an interview with our reporter at his Gamjuice office located at Brusibi Housing Estate Thomas said: "Gamjuice is Gamjuice Organic, what we do is that we are trying to process everything, we processing all our foods and all our vegetable so that it can last long or  be preserved for at least one year."
He further said that: "I have the finance to import loopy Juice or import chemical juice and sell them but I don't want my countrymen to be sick that why I decided to open GamJuice Organic, they dumped most of these Juice here because they don't used them in Europe or elsewhere."
Thomas however said 99% of juices in the Gambian supermarkets are all imported which he attributed as 'shame on Gambians' that what even motivated him to establish Gamjuice.
He added that he has employed many Gambian youths who are now working for Gamjuice and emphasized that he wants the Gambia to be part of exporting countries.
"My aim is to see The Gambia as a leading exporter because The Gambia is blessed with many things that can be exploited for the benefit of the populace, he says.
He accused the supermarkets for not accepting locally made juice instead imported juices. He stressed that this do frustrate the efforts of local producers in the country at the expense of foreign companies
"I have been in this business for almost 12 to 14 years now; we have been doing well and processing all our organic foodstuffs. We are saying that we are organic. We make our own local juice without any chemicals," he said.
Gamjuice CEO also said that the imported juice has its artificial sugar a small sugar has about 2 to 3 thousands percentage of our home sugar.
Gamjuice is using home sugar that means that taking Gamjuice you are not likely to have diabetics because is not artificial sugar but homemade sugar, he argued.
"We have some machines we used to process this organic juice which we imported from China, we are also the only processor in the Gambia, we bottle too under good hygienic condition," he said.
The people and the government should encourage them so that they will not rely on imported juice alone.
Read Other Articles In Article (Archive)