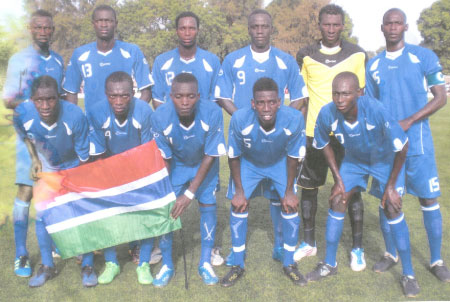 Brikama United beat US Ouakam 3-1 on penalties to secure a ticket to the second stage of the CAF Champions league on Saturday.
Brikama overturned a 1-0 deficit over Ouakam, who claimed the initial result in Banjul two weeks ago.
Foday Trawally gave the visitors the jubilation of their lives when he sent home a well-placed finish in the 70th minute. 
The Gambia's 2011 league champions, who played Saturday's away game with more determination with new coach, Sulayman Kuyateh, dominated Ouakam's midfield and through striker Momodou Jallow led a rigorous attack on the host.
The Senegalese failed to use home advantage to guide their 1-0 advantage over Brikama in the first leg after missing a crucial first-half penalty by player Bai Musa Jagne.
Following a deadlock after both legs ended 1-0 apiece, the winner was decided on penalties with Brikama stealing the show though influential keeper after emerging victors with a 3-1 score in the preliminaries.
Brikama United will now meet EST Tunisia in the next round starting in the weekend of March 23 when they will play host to the North Africans in Banjul.
The return leg will be played in the weekend of April 6 in Tunisia.
With just two weeks after his appointment as head coach of Brikama United, Sulayman Kuyateh is more than pleased for attaining this result in Senegal.
The young Gambia coach, who told local Senegalese media RTS that he was confident with the boys, rated Ouakam as a big side and "not easy pullovers".
"I came into this game to attack and score and this materialised," he told RTS. "My target was to score and defend the lead and after, head for penalties because I know I have the players who can take kicks coupled with the best goalkeeper in my squad."
Ouakam team captain Pa Modou Njie commented: "We missed several chances and failed to make good use of them. We played very well but failed to qualify."
Meanwhile in another game last evening, Gamtel defeated Casa Sports of Senegal by 4-3 in penalty shoot-out.
Gamtel have now qualified to to the next stage of the CAF Confederation Cup.
Read Other Articles In Article (Archive)