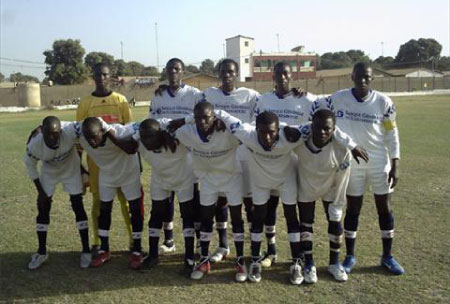 Brand Ford FC Tuesday rained heavy defeat on Gully Squad with five goals to nil – two in the first half and three second half – in a match of the East Nawetaan Qualifiers played at the Serrekunda East Mini-stadium.
The two first-half goals from Malang Sanyang and Ebrima Sowe in the 9th and 10th minutes and the three second-half goals courtesy of Yusupha Jammeh, Assan Jandi and Lamin Ceesay in the 49th, 55th and 82nd minutes respectively were enough to give Brand Ford FC a humiliating 5-0 hammering over Gully Squad FC in the ongoing Serrekunda East Sports Development Organisation (SESDO) Nawetaan qualifiers.
The win now means Brand Ford FC have advanced to the second round of the 2011 Nawetaan qualifiers, which is being played in a knockout format at the Serrekunda East Mini-stadium.
The game, which attracted a large crowd of supporters, was dominated and controlled by Brand Ford FC leaving Gully Squad FC with no option than to be chasing shadows.
In the 3pm encounter on the same day, Castle Bi FC beat Aziz United 2-1 to secure their place in the second round of the competition.
Speaking to reporters shortly after the game, Lamin Manneh, head coach of Brand Ford FC, said he was very happy with the win, as according to him, his team have been participating in the qualifiers for the past three years but all their efforts in trying to qualify for the Naweetan proper proved unsuccessful.
"We want to qualify for this year's Nawetaan Proper and the day we will qualify is the day I will show everybody my happiness," the Brand Ford FC coach added.
"In football you have to be disciplined and determined and this is what I always tell my players," says Manneh, who went further to express his team's ambition of booking its place in the Serrekunda East Naweetan.
Read Other Articles In Article (Archive)