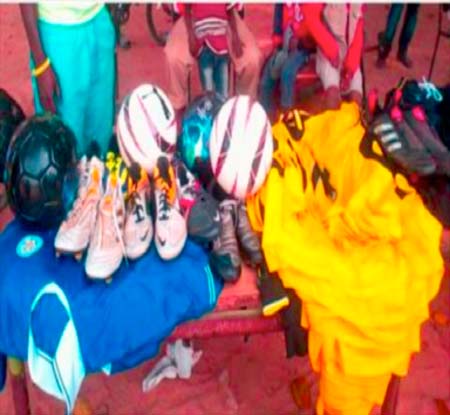 A United Kingdom-based charitable organisation Kit Aids, in junction with Plymouth Banjul Challenge, yesterday donated sporting items to the Ministry of Youth and Sports, Ministry of Basic and Secondary Education and the Gambia Cricket Association.
Speaking at the presentation ceremony held at the Asset Bantaba Restaurant in Senegambia, Adama Bah, Plymouth Banjul Challenge representative in The Gambia, said the organisations over the years have been of huge support in many areas including infrastructure projects.
Bah revealed that Plymouth Banjul Challenge had funded fifty per cent of the GNOC building, saying they also supported the Bakau Mini Stadium with dressing room for players and officials.
Bah further revealed that Plymouth Banjul Challenge had also funded Sukuta Dembadou Mini Stadium primetre fence as well as Brikama Box Bar Mini Stadium pavilion roof and the basketball court.
Bah pointed out that the charity also provided Banjul KG5 Mini Stadium with new offices and repaired Serrekunda West Mini Stadium fence.
Bah said they also supported the Mary Vocational School in resurfacing its basketball court, adding that the charity also rehabilitated Bansang Lower Basic School football field and refurbished the youth centre at the main stadium in Basse.
Bah said the charity paid the school fees of Brufut Marathon sponsored students and provided Kantaur Youth Centre with furniture.
He applauded Customs and Exercise Department for reducing the tax levy on their items.
He also hailed Gambia Ports Authority for their support to them.
George Gomez, a representative of Kit Aids, said Kit Aids started ten years ago and The Gambia had benefited a lot from it, adding that the organisation would continue to render support to the country.
Gomez urged the Ministry of Youth and Sports and the Ministry of Basic and Secondary Education to liaise with Red Coat in order to fast track the arrival of items to the country from the UK.
Mamudi Jawla, deputy executive director of the National Sports Council, appreciated the donors for the support rendered to the ministries and the Gambia Cricket Association.
Jawla also thanked the donors for the timely gesture, saying it would aid the level of sport in the country.
The president of the Gambia Cricket Association, Johney Gomez, thanked the donors for their invaluable support.
Speakers including Abdou Karim Sey also lauded the donors for the "tremendous" gesture. 
Read Other Articles In Article (Archive)