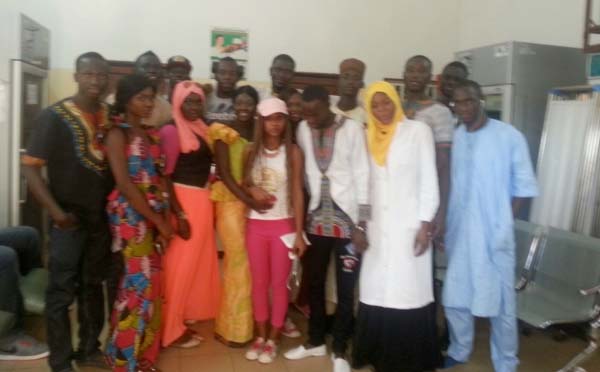 The fans club of Gambia's rising music star, Bai Babu, on Friday donated blood to the Edward Francis Small Teaching Hospital (EFSTH) in Banjul.
Modou Samba, treasurer of the club, said it was the first time the club took such "a giant step" towards savings lives of people in need of blood.He said henceforth the initiative will be a tradition for the club.
"This will be a continuous activity for the club.In fact, as I am talking right now, we are also planning another blood donation next Friday," he said.
Alhagie Ebou Sarr, blood donor recruitment officer at EFSTH, said The Gambia needs people like Babi Babou fans club to always contribute to nation building.
"Blood donation is something that is everybody's responsibility particularly those within the age bracket of 16 - 65 and in good health," he said, adding that any prospective blood donor is thoroughly checked to ascertain the fitness, health wise, of the person to be able to donate.
The health official said many patients usually die as a result of low blood pressure.
"Therefore, the step taken by the fans club will really help those patients in need of blood to have.This will be of immense benefit to women in labour, especially, because they usually lose a lot of blood in the process," Mr Sarr explained.
He said the Banjul hospital is happy and proud of Bai Babou fans club and hopes that other organisations will learn from the club to also come forward to donate blood.
Modou Lamin Jack, blood donor recruiter and founder of Miracle Come Back Gambia (NBTS), said even though it is true that they want to save the lives of patients, they also have obligation to those donating blood.
"This is why we do not just jump and collect blood anyhow from anybody but rather we cross examined to see those who meet certain criteria; those are the ones who are allowed to donate blood," he said.
While hailing the fans club for the initiative, Mr Jack said thousands of people are dying due to lack of blood so it is important that people come forward to donate blood.
He told the fans club:"We need youth like you because if all youth are like you, we will have a better Gambia as blood problem will be a history in the country."
Saffie Abia Bah, blood donor recruitment officer at NBTS, said blood donation is not only beneficial to the recipient of the blood but also to the donor.
"One important thing about donating blood is that it enhances your production of red cells and balances your iron overload.Balancing iron overload helps in preventing certain chronic diseases like heart attack and cancer," she said.
Read Other Articles In Article (Archive)