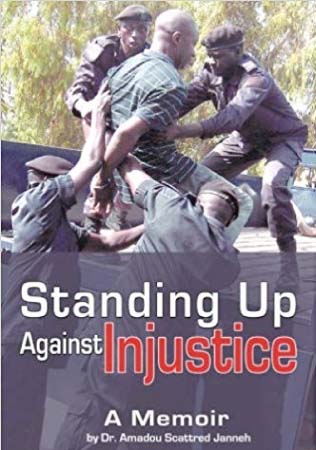 Reviewed by D. A. Jawo

Gambians have long been subjected to all sorts of rumours and allegations about the maltreatment of detainees in the hands of our security forces, with stories of both physical and mental torture being frequently administered on detainees, mostly to elicit information as well as humiliate them. However, for the simple fact that very few Gambians were willing to talk about whatever they went through in detention, it was not possible to know the truth from the speculations. There has always been a tendency among Gambians, largely out of fear of retribution, to keep mute over whatever ordeal they may have gone through in the hands of their tormentors.
Therefore, Dr. Amadou Scattred Janneh's book, Standing Up Against Injustice, has gone quite a long way in filling that void. In quite a moving narrative of his ordeal while in pre-trial detention and the eight months of his life sentence that he spent in Mile Two Central Prisons before being 'pardoned' by President Yahya Jammeh, Dr. Scattred Janneh, a former information minister under the APRC regime, gave us quite a vivid picture of the excesses and almost total lack of regard for the rule of law that go behind the corridors of power in this country.
In the book, Dr. Janneh took us through his childhood days, his family background and further education to the United States, culminating in his dreams to start an Arab-Spring type of revolution in The Gambia, which eventually led to his arrest and harsh incarceration.
This book is no doubt the first detailed first-hand account of what actually goes on behind those dark walls of the numerous makeshift detention centres dotted all over the country. I wonder how many Gambians, for instance, knew that there are detention facilities at Banjul International Airport or that there is a hell-hole called Bamba Dinka at the Jeshwang Prisons where detainees are stripped naked before being dumped in there. He also highlighted the endemic corruption which goes on there, no doubt a replica of what happens in the other such facilities.
However, Dr. Janneh also showed us that not every one of those in charge of these facilities actually supported what was being meted out to the detainees. He made reference to various instances when some of those people he came into contact with in most of those facilities were sympathetic to him and through their comportment and actions showed their disapproval of what was going on, sometimes at great risk to themselves. In Chapter 11, for instance, he told us how a police officer at Brusubi-Sukuta police station had to risk everything and allowed him out of his cell to take bath for the first time since his arrest several days before, which could have easily put that police man in deep trouble if his superiors came to know about it.
In the same station, "a visiting undercover NIA agent" also risked the severest punishment by giving Dr. Janneh a telephone to get in touch with his family for the first time since his arrest. He told us that he encountered similar sympathy and support in all the places he was incarcerated, as well as a lot of solidarity from the inmates at the Mile Two Central Prisons.
Another dramatic chapter of the book was the sorrow and trauma that gripped all the inmates at Mile Two when just out of the blue, nine death row prisoners were rounded up and executed, which included Lamin Darbo, the longest serving inmate and the one who had become quite close to him in prison.
Reading what Dr. Janneh had gone through during his incarceration, and considering that he was also an American citizen, with frequent visits and a lot of interest in his case by the US embassy, one would wonder what would happen to other Gambian detainees who have no one outside monitoring their treatment.
This book, though short, is not only an important document of what goes on inside the Gambian penal system, but it is also an indictment of the system. Therefore, I would highly recommend it to anyone interested in following the current situation in the Gambia.
Available at Timbooktoo tel 4494345
Read Other Articles In Article (Archive)