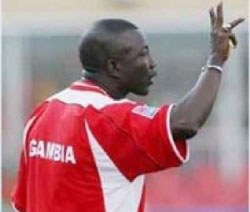 The Gambian football coach Bonu Johnson has expressed gratitude for having won for the country another laurel at youth category.
Coach Johnson, who recently led the Gambia U-19 team to the international invitation eight-team tournament, returned home with the tournament's trophy, a glory missing for a long time for the national youth category.
The team beat China 1-0 in the final but the Gambian experienced and dedicated coach has said the team made it as a result of their determination and the activeness of the players at their various clubs in the first and second divisions.
"I am happy and thank God. It was difficult though. The team had six days of training before departing to the tournament," he said.
Bonu said there was however some confusion with regard to the age of footballers they prepared for the tournament.
While they prepared players including those born in 1994, the organisers finally requested for those born in 1995, so they had to drop the players born in '94 and selected new ones.
Though a very short preparation but the determined players selected from the national first and second divisions who meant business ended a trophy less steak for the country since 2009 coming home on Tuesday morning with a national accolade.
Bonu, with various national youth teams, has won other trophies such as the November 1994 trophy in Tunis, the July 22nd Peace tournament in 2004 in The Gambia, the 2005 CAF Cup and the 2007 U-20 CAF.
He thanked Gambia Football Federation Normalization Committee and the Ministry of Youth and Sports for their support in making their participation possible.
Speaking after the arrival of the team on Tuesday at the headquarters of the Gambia Football Federation (GFF), the minister of Youth and Sports, Alieu K. Jammeh, said on Observer Sports: "I want to thank all of you for making the country proud, and making yourselves proud and for also making everybody proud of this country.
"His Excellency the President [Sheikh Professor Alhaji Dr Yahya Jammeh] is aware of your success. We have been regularly updating him since you left, along the way all the games you played."
Alh Omar Sey, spokesperson and vice chairman of the Normalisation Committee of the GFF, congratulated the players and officials for the victory over their opponents including teams from Europe.
He also congratulated the honourable minister and the Ministry of Youth and Sports for being the brains behind the visit.
"We must also extend our thanks and gratitude to you the boys for the dedication and sacrifice that you put into this tournament; that was the main factor for you to win this tournament," he was quoted on ObserverSports.
Read Other Articles In Article (Archive)