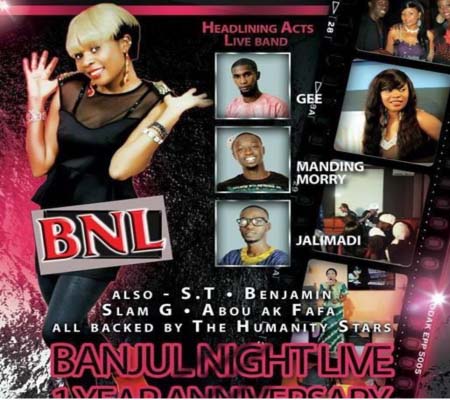 Ida Bidwell Mbowe, producer and anchor of Banjul Night Live (BNL), a TV show on The Gambia Radio and Television Services (GRTS), has said they have made a positive impact in the country by changing the perception of people towards the Gambian artistes and entertainment industry.
"It means a lot; initially artistes will have a show and only few people will turn up and support and offer. But right now BNL has changed the perception of people towards the Gambian artistes," she told Entertainment and Lifestyle on Thursday.
She said: "Well, after months of successful production with about 50 episodes, the TV show is set to celebrate its one-year anniversary in grand style on 22nd November at SunSwing Hotel, with purely Gambian entertainment style which will feature Gambia artistes like Mandingmorry, Jalimadi, Abu AK. Fafa, Gee, ST, Benjamin, Slam G to be backed by Humanity Starz.
She added that the anniversaries will proceed to Brikama-Jokor on 30 November 2013.
According to her, as a matter of fact BNL has indeed come a long way and it is therefore not surprising that it has made a deep impact on the TV screen of many Gambians.
"This first year anniversary events, BNL will also explore the entertainment sector in a form of interviews with a wide section of movers and shakers in the scene like artistes, fashion designers, actors/actress, and celebrities," she said.
Mrs Bidwell Mbowestated that in January 2013, BNL organised mega entertainment celebrities' event, which featured Gambian artistes at the Kairaba Beach Hotel, the proceeds of which was donated to the SOS Children's Village and the Children's Ward at the RVTH.
She said: "I cannot tell how many people who watch BNL, but I can tell you that it is one of the most famous TV talk shows on GRTS. We don't only have a fan base in The Gambia but also around the world, as we have a YouTube page that we normally upload with all the episodes online, so that people that are outside who cannot access GRTS can have the chance to watch our website. We have been receiving positive responses from people within The Gambia and beyond."
She noted that she feels great and it really touches her heart to know that people appreciate the show even though it is still young and have a long way to go
"I am trying everything to contribute in one way or the other towards the development of The Gambia, especially in the entertainment sector. So the support I am getting and the motivation from people will enable me to take BNL to another level," she said.
"We are trying to get BNL internationally to put The Gambia flag on the world map."
She said they have so many things in store; the show is just one year old, yet they feel theyhave a lot to do, to give Gambians the best TV talk show program that they ever want.
"Thanks to all BNL Crew, audiences our sponsors like Gamcel, RLG, Unique Solutions and all those who contribute immensely to the success of BNL; I love you all," she concluded.
Read Other Articles In Article (Archive)