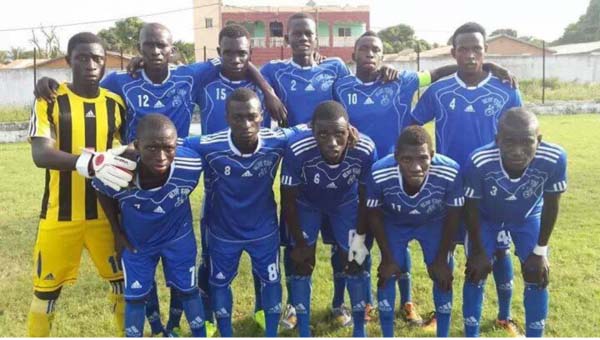 Blue Star FC on Tuesday beat BJ's Academy by a goal to nil in their league semi-finals encounter to set a date against Milan FC.
The meeting between Blue Star FC and Milan FC on 22nd November will be a repeat of last year's league finals in which Milan FC emerged victorious.
Jerreh Marong alias Rooney scored the only goal of the game for Blue Star FC in the 25th minute of the game, after capitalising on skipper Ebou Gaye's brilliant through pass to ensure his side secured a place in the league finals.
Kebba Jammeh, Blue Star FC's assistant coach expressed delight about his side securing a place in the league finals, adding that he was satisfied with the performance put up by his side on the day.
He noted that they worked very hard on training in preparation for the game, which worked out for them during the game.
The unity among players and the entire Blue Star team has also contributed to their success, he pointed out, adding that they live like a family.
After losing their knock-out semi-finals game against Juventus FC, they made sure they do not lose both semis by going all out for victory against BJ's Academy, which they also eliminated in the knock-out quarter-finals, he added.
They fought tooth and nail for victory, and spoke to the players to motivate them to come and fight for the game against BJ's Academy, after losing their knock-out semi-finals encounter, which helped them to secure a place in the finals.
Their target is to lift the league cup this season after losing to the same opponent in last year's finals, he went on, and that they will work to rectify last year's mistakes which cost them the trophy.
They have watched some of Milan FC's games and will try to tackle their areas of strength and exploit their weaknesses, he continued.
Their players are not motivated financially as the team is not financially strong, but the players are young and eager for victory and to make a name for themselves, he said.
The team belongs to the players are they are ready to defend it to any level, Jammeh further declared. 
Read Other Articles In Article (Archive)