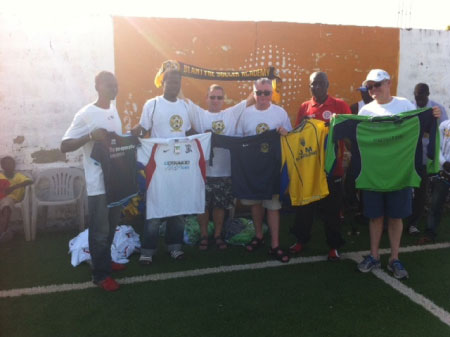 Blantyre Soccer Academy in Scotland on Sunday 4th November 2012 donated three sets of jerseys and coaching manuals to the Father Gough Football Academy in Manjai Kunda at a presentation ceremony held at the Biri-Biri Field in Manjai Kunda.
Speaking at the presentation ceremony, Musa Njie, Technical Director of the Gambia Football Association (GFA) Normalisation Committee, said they were looking forward to seeing Blantyre Soccer Academy, and that it has now materialized.
He added that they are very happy, and are doing everything possible to forge good and ever lasting relations with Blantyre Soccer Academy, which is all geared towards the development of youth football in The Gambia.
He noted that they are also looking forward, hopefully, to some time in the future seeing a team from Father Gough Football Academy going to Scotland at the invitation of Blantyre Soccer Academy.
He further thanked them for the time they have taken, noting that "these are the players we are looking forward to seeing in the Premiership and other top leagues later on in years to come."
Njie further remarked that "as Technical Director of the GFA Normalisation Committee, it is my desire to focus on this level of youth football to develop from this early age, and give them all the tools they need to become good professional players". 
He also said that they are looking forward to sitting down with the donors, and to also work with them.
Paul Lafferty, the main mentor who initiated the link between the two academies, said he has been coming to The Gambia since 1986.
He added that he will love to see Father Gough Football Academy exchanging visits with Blantyre Soccer Academy or even going there for trials, but that they have to be educated on Government policies so that they can make that to happen to benefit children.
When asked whether in future the academy players will get the chance of playing in the Premier League,  Dongie Borland a scout from Scottish Premier league side  Celtic and a coach,  said not all of the boys can make it but at least two might be able to make it.
Read Other Articles In Article (Archive)