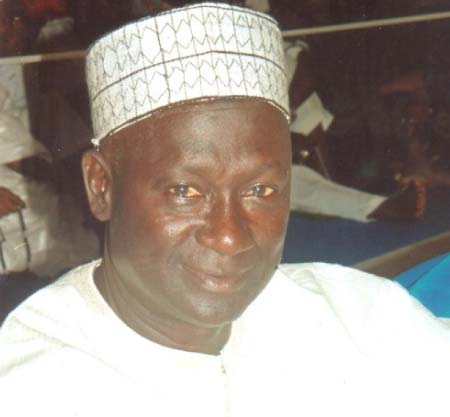 According to official sources, Abdou Diouf Foundation of Senegal will honour Mamadou Biri Njie, a renowned Gambian veteran footballer, on Saturday 10 December 2011at 11a.m. at the Theatre Daniel Sorand in Dakar, Senegal, for his valuable services and dedication to the promotion and development of football in Africa and Europe.
Biri will receive his award together with other prominent sport personalities who also served for the development of sports in their respective countries.
The recipients will be Daba Modibo Keita of Mali - World Champion of Sudo (Taekwondo); Mamadou Niang, former captain of the national team of Senegal (the Lions); Bonaventure Carvalho, former basketball national coach of Senegal; Alioune Diop, former basketball national coach of Senegal; and Pathe Dieye Fall, retired football commentator of Radio Senegal.
The ceremony will be presided over by Habib Thiam, former Prime Minister of Senegal who will deputise Abdou Diouf, former President of Senegal, who is currently the Secretary General of the Francophone now based in France.
It should be noted that May this year Biri received three awards in Washington DC, USA, on African Liberation Day.
Profile
Alhajie Njie Biri Biri is indeed the greatest player The Gambia has ever produced. Biri, the son of Uncle Alhajie Ngooze Njie, was born at Perseverance Street Banjul in 1946.
He attended Crab Island Junior Secondary where his talents were first discovered in the Inter-School Soccer competitions when Biri dominated Junior Soccer and brought many awards and honour to his school.
Biri Biri launched into national soccer as a young player for the then Black Star Football Club, a team he only played for one match and because of his incredible dribbling talents and acute sense of space and goal-making Biri was invited to join the Black Diamonds, the then national champions.
He played for Diamonds until 1963 when he was virtually bought by the White Phantoms where he stayed until 1964.
Biri joined Arrance, a young team filled with young talents, which suited Biri's style of play.
Many would recall the combination between the late Yusu Samba (Pele) and Biri in Arrance hay days.
After winning a championship for Arrance in 1965 he was again invited to join the famous Augustinians Football Club where he stayed for 5 years.
Biri's dynamic leadership in Augustinians attack and midfield enabled this club to dominate soccer throughout this period.
In 1970, Biri left The Gambia to join Derby County, a first division team in the UK. He returned to The Gambia in 1970 and joined Wallidan, a team he actually showed a lot of love for and attachment. In 1972, Biri went to Denmark to play for B1901, a first division club in that country. In 1973 he was transferred to the famous Spanish team Sevilla, a team that has also fielded such famous players like Diego Maradona.
Alhajie Biri Njie was recently honoured by his team Sevilla as one of the greatest players in the world and on that occasion Diego Maradona himself took the privilege to have his picture taken with the greatest player that has ever played for Sevilla.
After a five-year sojourn in Spain, Biri went to Belgium to play for Anderlect, a first division team. In 1980 Biri returned to Denmark to play for Herfolge. In 1981 he returned home to continue his incredible career in soccer.
Biri always assists national coaches and club teams and has led the Gambia national squad on many occasions.
He also played for the national team from 1963 to 1987 a record in the history of soccer in this country. Biri Biri is an inspiration to all Gambians in particular and to the young generation of rising stars. 
Read Other Articles In Article (Archive)