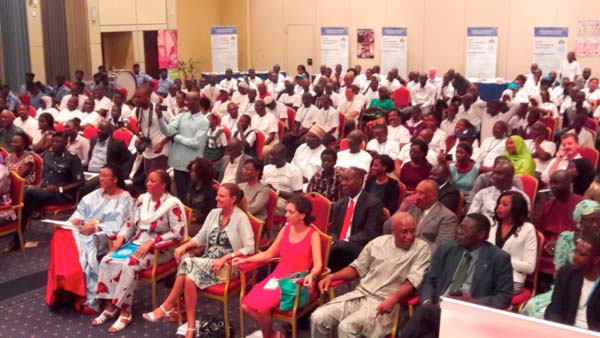 The United Nations System in The Gambia in collaboration with The Gambia government yesterday held a commemoration to mark 70thanniversary of the UN.
The celebration, held at a hotel in Kololi, was aimed at providing Gambians the opportunity to reinforce their knowledge of the UN's mandate and support.
"This is an opportunity for The Gambia to assess the gains made and the challenges faced by the UN in meeting its commitment to the people," said Ade Momonyane Lekoetje, UN resident coordinator.
Ms Lekoetje, who is also the UNDP representative to The Gambia, said the celebration also presented an opportunity for Gambians to examine the way forward on bridging existing gaps across the three pillars of the UN Development Framework (UNDAF).
The three pillars of UNDAF include poverty reduction and social protection, basic social services, and governance and human rights.
The UN diplomat said the commemoration of the 70th anniversary took place "at a historic moment" as the member states of UN adopted the 2030 Agenda which constitute 17 Sustainable Development Goals (SDGs).
The SDGs were adopted as a successor programme to the Millennium Development Goals (MDGs), which phase out this year.
She said at the national level, The Gambia government is currently reviewing its priorities for the next national development plan, 2017-2020.
Also, the UN System in The Gambia is in the process of formulating the next UNDAF 2017-2021.
Ms Lekoetje said the 2015 theme for the anniversary selected in The Gambia is'Building Tomorrow's UN Today', and highlights the UN's renewed commitment to child protection in the country.
It also demonstrates the relevance of children as the emerging leaders, and a force for change for a better, more developed and peaceful world, she further stated.
Minister of Foreign Affairs Neneh Macdouall-Gaye paid homage to the founding fathers of the UN, and also commended the secretary general andentire staff of the organisation for continued selfless service to the world.
She said the adoption of the SDGsis not only a bold step by the UN,but also a manifestation of the collective roles and desire to improve the lives and livelihood of the people, worldwide.
Mrs Macdouall-Gaye pointed out that even though much has been achieved,since the establishment of the UN, much more remains to be done.
"The world continues to be confronted by war and destruction; the crises in Syria and the Middle East areincreasing threats to global peace.The situation in Libya has also caused serious repercussions on regional stability. Thereis also an unending war in Somalia and the instability in the Great Lakes Region.All thesecall for concerned," she concluded.
Read Other Articles In Article (Archive)