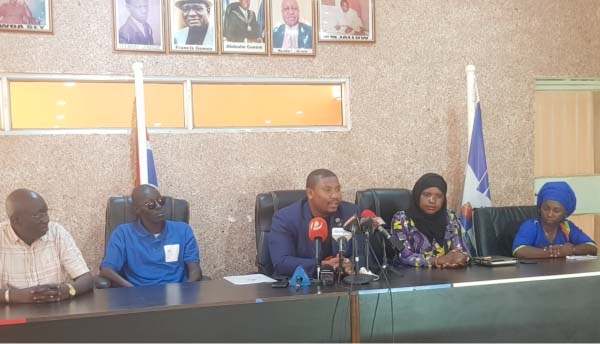 Talib Ahmed Bensouda, the mayor of Kanifing Municipal Council (KMC) has vowed to address the perennial problems associated with the Bakoteh dumpsite, which he said doesn't only serve as an eyesore but a national problem.

Mayor Bensouda disclosed that the council has budgeted over D10 million earmarked for the perimeter fence of the site. This, he said would also prevent people from using it as a shortcut to get to the main road.
Mr. Bensouda was speaking during a press conference held at the KMC on Monday to discuss the Bakoteh-dumpsite fire incident which occurred on Sunday.
The press confab came following a blaze that occurred at the dumpsite on Sunday, forcing residents living around east side to vacate.
Bensouda indicated that they've had an emergency meeting to discuss the solutions regarding the issue of the Bakoteh dumpsite.
"The perimeter wall fence of the Bakoteh dumpsite is going to be 6 meters high with barbwires on top to prevent people from scaling the wall. We all know that residents around the area are in the habit of using the site as shortcut to get to the main road," he said.
He lamented the scale of hardship people around the site endure, saying that KMC has planned a number of interventions including a perimeter wall which is in council's 2020 budget.
"We also want to work with a waste processing partner in which eight interested partners have already applied to work with the KMC. We have already begun the process of how we can relocate a separate area where we can develop a sanitary land for," he said.
He affirmed that they want to fast-track all their initiatives, one of which, he said is the fencing of the dumpsite and the introduction of the waste processing facility.
"It is not going to be easy to eradicate the issue of the Bakoteh dumpsite because it's never been done. We know that there is a problem of land availability as well," he said.
The KMC mayor thus called for the support of everyone, both government and private sector to end the decades long problem of Bakoteh dumpsite once and for all.
Read Other Articles In Article (Archive)