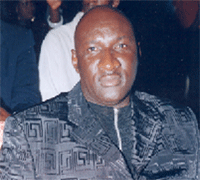 The well-publicised false information case involving the former National Assembly member for Kombo North Constituency, Musa Suso, continued with the testimony of the 3rd defence witness, Ebrima Keita.
Mr. Keita told the court that at the time of his imprisonment, he was the most trusted inmate, noting that as a result he was given the 'red band'.
He stated that the 'dead carcass' that was brought to Mile 2 was skinned by him and cooked by one Kebba, who was a cook. He added that the meat was served by the same Kebba to the inmates who wanted to eat. He revealed after eating the meat it resulted in a diarrhea and stomachache complications. Consequently, he said some of them died, but he does not know them.  He told the court that he did not eat the meat because he knew it was a dead swollen bull. He adduced that the prison authorities were aware of it.
Asked by the Prosecutor, whether he was a vet or a doctor, Mr. Keita replied in the negative.
He further adduced that it was in the evening that they went for the carcass at Yundum, when he had seen a black tinted vehicle at the scene, but it did not stop.
The Prosecutor told him that whether it was correct that he hated David Colley because he (the witness) smokes cannabis and David is strict Administrator who hates cannabis, he replied that he was not in court for the issue.
The Prosecutor then put it to him that from 2001 to date no prisoner had died of diarrhoea, decentryor any other stomach complications, but he maintained that what he had testified was the whole truth.
Further put to him that he had never butchered any dead bull that was used to feed prisoners, Mr. Keita affirmed that "he had, and had been butchering for cows given out by the President for 4 years, and butchered this particular bull in question", which he said, is male and ash coloured.
Meanwhile, Mr. Keita was picked up by the police in the court premises shortly after his testimony and whisked away to the Bundung Police Station.
Mustapha Nying who said he is a butcher by profession was the next to testify for the defence. Mr. Nying told the court that he was convicted and sentenced for 7 years for a drug offence. He told the court that he knows David Colley as Director of Prisons, and Sadibu Jarjue as a prison officer. He told the court that he used to do butchery at Mile 2 under command.
Defence Counsel Jobarteh asked him whether there had been any time that he did refuse to skin an animal when asked to, he replied in the positive. As he put it, it's was a dead bull brought from Yundum. Consequent upon this, he said he was then put in a confinement cell for months.
Under cross-examination, he maintained that a dead bull was actually taken to Mile 2.
At that juncture, Magistrate Kayode issued a subpoena for one Mballow Kanteh, Lamin Darboe and Omar Sey to appear in court following Lawyer Jobarteh's application.
The case was adjourned to 9th November 2009.
Read Other Articles In Article (Archive)