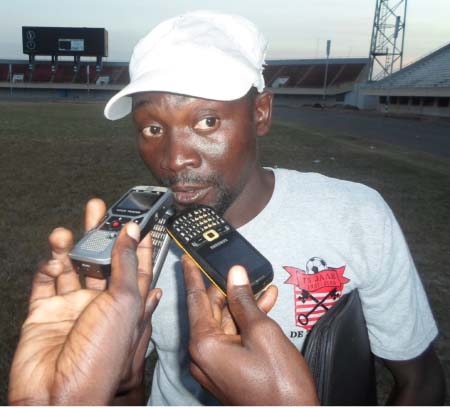 Baboucarr 'Boris' Demba, head coach of Barra, Essau and Mayamba (BEM), has stated that he took part of the blame for his side's 3-0 defeat in the hands of Bakau in their Super Nawetan game played at the Independence Stadium on Saturday.
Boris, as he is widely known, noted that "tactically everything went wrong today against Bakau". He added: "I take the blame for the defeat together with the players because instructions were given to them prior to the game."
He also said they started the first 5 to 10 minutes of the game as planned but lost concentration just after Bakau scored.
"The encounter was a good game for Bakau and a bad one for us," he remarked, saying they came all out for the maximum three points but at the end everything went wrong for them.
Kebba 'Jasper' Touray, head coach of Bakau, said they had been working very hard after losing two of their previous games.
The prevention of some of their players from taking part in the competition has not affected them in any way but rather motivated them to work hard, he said, adding: "Bakau is a footballing town and bigger than anyone."
He said they always want to come first and would fight for the maximum points in the next game to be able to finish on top of the group.
He also pointed out that Bakau against Banjul is always a special game, adding that despite what transpired in Banjul the game will be well contested.
Banjul are struggling at the moment, he observed, saying his side would capitalise on that to collect all three points.
Jasper, as he is widely called, noted further that they would do their best to give their fans what they want. "The aim of the Super Nawetan is to grow the talents of players," he added.
Abdul Wahab Gaye, head coach of Serrekunda Central, speaking to reporters following his side's goalless draw with Banjul in the 3pm kickoff of the same day, said that in their previous game against BEM they were in a hurry, which resulted in their heavy defeat.  But they have learned from it and it resulted in them collecting a point against Banjul on that occasion, he noted.
He also said his side's performance against Banjul was good and satisfactory since Banjul are a bigger team than them.
He expressed confidence that his team will qualify to the next stage of the competition if they enhance their performance, saying it is possible for his squad to beat Serrekunda East.
Head coach Gaye also said they need the three points more than Serrekunda East do and will double their efforts to secure the maximum points, saying the final whistle will decide the outcome of the game.
Banjul head coach Bai Omar Samba, in his remarks, said they came to the game with 16 players and it reflected in a draw.
Some of his players are nursing injuries, others are preparing for the Christmas while others went for 'Magal', he explained, saying this situation affected their preparation towards the game.
He described the draw as bad, since collecting the maximum three points was their ultimate goal. They will however fight tooth and nail to secure a win in their final group game.
He also said he always teaches his players how to score goals, but was quick to add that scoring goals is a general problem for Gambian strikers.
His team can play well and would strive hard to collect the maximum three points in their final game, he concluded.
Read Other Articles In Article (Archive)