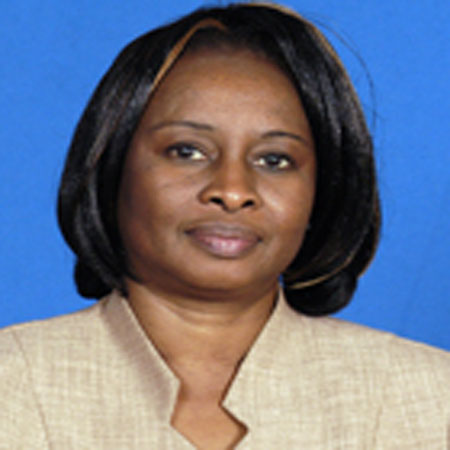 The Gambia and Sub-Saharan Africa's first female International Olympic Committee member Beatrice Allen had the honour of presenting the medals for the women's 400 meters athletics championship in the 2012 London Olympics this week.
The event was won by Sanya Richards-Ross who earned a long-coveted gold medal, becoming the first woman from the United States to win the event since 1984. Britain's Christine Ohuruogu, the 2008 Olympic champion, was second in 49.70, and DeeDee Trotter of the United States was third in 49.72.
The first vice president of The Gambia National Olympic Community was in hand to present the first of three medal presentations she has done in this XXX Olympiad after the end of the women's 400 meters race at the London's Olympic Park in Stratford.
Beatrice Allen, speaking to Pointsports in an exclusive interview on Tuesday on her reaction to giving out the medals, said she was just performing her duty as an International Olympic Committee member though said she was happy to hand over the gold to Sanya Richards.
"I have no special feelings about it because the handing of the medals is our role as an IOC Member. The IOC Members present the medals and the International Federation gives out the token and as an IOC member, you have to choose at least three events to present a medal at and I have chosen the women's 400 meters, Taekwondo, which will be on the 11th and Boxing on the 12th.
"Normally when I select, I start with the female first and then I normally also take athletics. When I was selecting I did not know that about it [that Sanya Richards was going to win the gold] but that was the good thing about it because Sanya Richards was one of the best and I am lucky to present to her and that was the nice feeling I had about it," she explained.
Beatrice Allen added that she is looking forward to the two medal presentations she will do in the second to last and final day of the London 2012 events in Taekwondo and Boxing.
According to her, the President of the International Boxing Federation is happy that she will make the presentation of medals in her sport since the two are friends.
She concluded by expressing optimism that The Gambia is also going to win gold in her next assignment of presenting medals in the next Games in the Brazilian city of Rio de Janeiro in 2016.
Read Other Articles In Article (Archive)