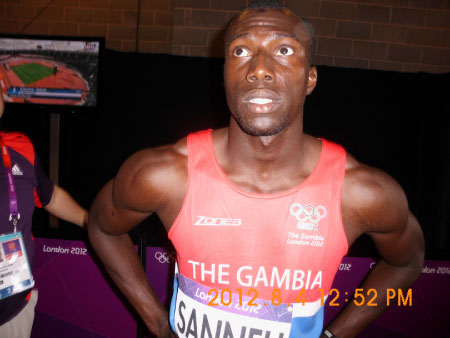 Gambia's sensational sprinter Suwaibou Sanneh says he is extremely delighted at receiving massive support from the Gambian people following his record-breaking performance at this year's Olympic Games taking place in London.
 The promising young athlete became Gambia's best performer at this year's Olympic Games. His brilliant display did not go unnoticed by Gambians and even non-Gambians alike, something Sanneh is delighted about.
He posted on his facebook account in response to the massive support he received back home as follows: "A very big thank you to all my fans and lovers for their support. I am so grateful for all your love and support. Words cannot express how I feel but only God will reward you all. I am very proud to be a Gambian and to run wearing the Gambia national flag: LOVE YOU ALL."
Suwaibou's comments were greeted with words of praises and appreciation by his friends at home and abroad. Abisco Baro, who first responded to Sanneh's post, says: "We Gambians love you much more and we are so much proud of you. Matilda Precious Komma also comments: "We love you too and we are equally proud of you. Similar comments were posted by Abdoulie Balajo, Rita Howells Jackson among others.
The young sprinter, who has set up a new national record for the Gambia, confirmed his place among the best losers in the first round of the men's 100m race.
He represented The Gambia at this year's Olympic Games together with his Gambian comrade Saruba Colley, who also got off to a convincing start to the games before been knocked out in the latter stage of the events.
The 22-year-old Sanneh, who has developed himself into becoming a household name in the country's athletics landscape, began his athletics career in 2006 during which time he represented The Gambia at the Zone 2 athletics championship in Dakar.
He proceeded to take part in a series of high-profile international competitions under the GAA's umbrella.
Among them was West Africa Junior Athletics Championship hosted by Ivory Coast, but a hamstring injury restricted his chances of any championship success, during a trouble-hit campaign in Cote d' Ivoire in 2006.
Despite suffering from a career-threatening injury on his left leg in 2006, Sanneh courageously went on to represent The Gambia at the ANOCA athletics Games in Bamako, Mali, and he did not disappoint his nation after his eye-catching performance saw him win a bronze medal in the 100 meters and a gold medal in the relay as Gambia finished 2nd behind neighbours Senegal at the end of that campaign.
The young athlete sensation proceeded to the All-Africa Games in Algiers, Algeria, and helped The Gambia finish 4th position after his hopes of adding another gold medal to his medal cabinet were frustrated by fellow athletes from other countries, such as Ema Dulo from Nigeria, who defeated him in the fight to claim the top accolade.
Suwaibou, 21, at the time was also part of a whole host of other top athletes from around the world that converged in Burkina Faso to compete in the 100 and 200 meters, but he eventually missed out a spot in the 100 meters race following his late arrival at the games.
Although Sanneh made a remarkable recovery from that disappointing moment, and proceeded to the finals of the 200 meters, he lost the battle in the process.
He won 7 gold medals within a space of one week, 4 in Lome, Togo, and 3 in Guinea Bissau during the West Africa Junior Championship and Zone 2 senior athletics championships in 2008.
That same year, Suwaibou won a silver medal in the Commonwealth Youth Games in India, and progressed to the Olympic Games in Beijing.
He described his career threatening hamstring injury sustained at the International Invitation (J3A) championships in Jamaica in 2006 as the biggest setback of his entire athletics career.
Suwaibou, a native of Jarra Soma in the Lower River Region, tore a bone on his left leg, which kept him on the sidelines for up to a year, but returned to action in stunning fashion to replicate his athletics successes at the Africa athletics championship in Nairobi, Kenya, with a top place finish in the 100 heats in 2010.
Read Other Articles In Article (Archive)