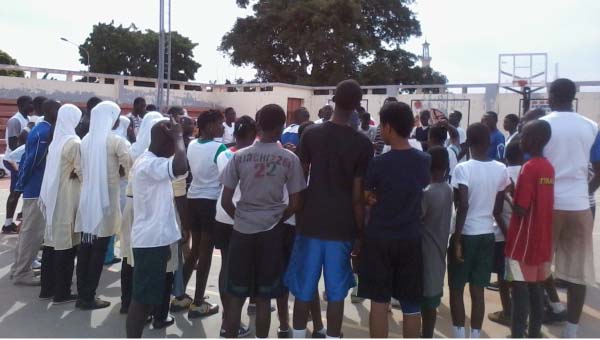 A seven-day Basketball training clinic for students, Physical Education teachers, regional NAYCONF teams and coaches on the fundamentals of basketball hosted by the US Embassy yesterday kicked off at the Independence Stadium in Bakau.
The training was led by Tommy Davis, a former National Basketball Association (NBA) player and college basketball coach.
The US Embassy hopes that the participation of youth in this program will give them the crucial fundamental skills necessary to develop not only their physical talent, but also to inculcate in them a sense of character and self-confidence, which carries significant educational and social benefits.
George M. Staples, Charge d'Affaires of the US Embassy, in his remarks at the opening of the clinic, said Coach Davis previously worked in The Gambia in 2011 and reinvigorated basketball in the country.
Since then, the Gambia Basketball Association (GBA) has been working closely with the US Embassy, and the Peace Corps to run an annual 3-on-3 basketball tournament, he noted, adding that they have also worked closely on training of basketball officials.
"Through our collaboration, The Gambia increased the number of trained officials from one to ten since Coach Davis first program here," he added.
The benefits of youth participation in team sport extend far beyond just the improvement of athletic ability, he highlighted, saying team sports have been shown to instill in young people a sense of character and self-confidence.
Team sports also promote leadership, discipline and mutual respect, he added, saying these values carry significant educational and social benefits that have resounding effects well into adulthood.
"The benefits of participation in team sports increase ten-fold for women," he stated, saying the evidence has consistently shown that female athletes who participate in team sports not only excel on the court, but also in the classroom and in their respective careers.
"Female athletes challenge gender norms, showing their community, and more importantly fellow women, that they can perform at the same level as men," he stated, adding that team sports can truly empower women to become leaders and role models in their communities.
The timing of Coach Davis' visit could not be better as they have been able to include NAYCONF teams into the training schedule with the hope to raise the standard of the upcoming NAYCONF tournament, he went on.
In conclusion he called on the participants to practise good sportsmanship, keep the competition friendly and ensure they forge relationships with their fellow athletes.
Tommy Davis, professional basketball coach, for his part, said he is glad to be back and hope this would not be his last time in The Gambia.
He expressed hope that they would continue to learn and grow together, saying the most important thing for him is to have fun, enjoy themselves, create initiatives in what they want to do and are doing not only in sports but generally in life.
Mohamed 'Papa' Njie, a staff of US Embassy who is also the president of the Gambia Basketball Association, said coach Davis, with the help of the US Embassy, was one of those who helped revitalize basketball in The Gambia.
The clinic is geared towards improving basketball in The Gambia, he added, saying some of the people Coach Davis trained four years ago "are very active in basketball now".
Associations are criticised that most of their activities are based in the Greater Banjul Area, he observed, saying he intends to take basketball to rural Gambia as they will be travelling to Bansang to train NAYCONF teams and coaches for four days.
The first thing the US Embassy did was to rehabilitate the Bansang youth centre basketball court to the standard that night games can even be held there, he went on, saying "the idea is to decentralize basketball".
With the infrastructure there they hope to soon be having their national league games in Bansang, Mr Njie said, adding that they still need sponsors as "basketball is a very fast-growing sport".
He also pledged to the Ministry of Youth and Sports to help with more basketball courts.
Read Other Articles In Article (Archive)