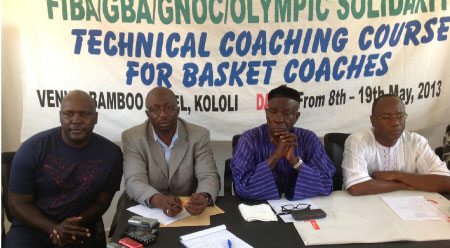 A two-week technical course for basketball clubs and regional coaches level one yesterday began at the Bamboo Hotel in Kololi.
The opening of the training course, which runs from 8 to 19 May this year, was attended by a huge number of basketball coaches from across the nation.
In his welcoming remarks, GBA Secretary General Abdoulie M.C. Jallow highlighted the significance of the course, saying it is organised to capacitise and improve the skills of coaches.
Coaches are expected to transfer the knowledge gained from the training to their various teams, he said, adding that the training is highly competitive.
GBA president Muhammed Musa (Papa) Njie extended gratitude to sports journalists for disseminating information on the discipline in the country, as well as to his executive and the coaches.
In emphasizing the significance of the course, Njie further revealed that the coaches should translate the knowledge to the players who will emulate and get to the next level of becoming national players.
"It is not only playing the game, but to have discipline and being a role model," the president emphasizes, adding that it is essential to compete fearlessly and fairly on national level.
Ronald Onyango Owino, an FIBA course instructor and head of Coaches commission –FIBA Zone, expressed concern over the significance of the course, saying they would be focusing on the fundamental and tactical aspects.
The course is the first level of certification programme globally, he said, adding that any coach who wants to be certificated for FIBA and the Olympic Solidarity must first take the level one course.
The basic requirements of the course are that one needs to be a national coach and experienced in basketball.
Candidates also need to pass both the theory and practical tests of the course, with the practical being more challenging.
Ronald Onyango Owino, who is the basketball women national team coach, gave some synopsis of the improvement of Kenya's women basketball, adding that Kenya's basketball team is among the best six in Africa.
GNOC president Alh. Momodou Dibba, who pledged GNOC's support to the training programme, urged participants to leave a legacy in both sports and family levels.
"The fruitfulness of the course would be seen in your various teams, which are expected to benefit also," he said.
Dibba advised coaches to conduct friendly tournaments within the sub-regions of Africa from which they would improve to compete in both the Ecowas and Olympic level in 2016.
Read Other Articles In Article (Archive)