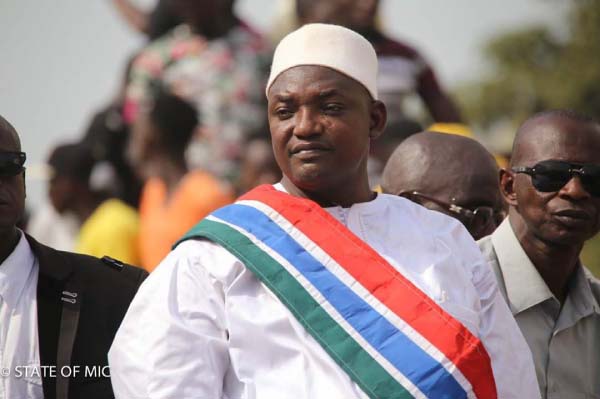 Well, we begin by congratulating Fatoumatta Jallow-Tambanjang as the Vice President of the Coalition Government.

It is indeed a milestone, and one that is welcomed and cherished by everyone in the country; even some men welcomed it without debating over the issue of being a woman.
I think that gradually we, as a nation, are trying hard to be gender sensitive across all sectors of development.
It is not, indeed, a new thing, and she is not the first to be a female vice president, because we had the longest-serving female vice president in the world in the previous government, Isatou Njie-Saidy, who was also the minister of women's affairs.
We all know for a fact that even though we had the longest-serving female VP at the time, nothing more changed with regards to the wide gender gap that exists in this country.
That being the case, there is much more that needs to be done to warrant women's participation in the development of the country, more than just selecting a female as VP.
First, as human beings, individuals and citizens of this country, we know for the fact without any doubt that women's rights are human rights; so selecting a woman as VP is a right and not a privilege accorded to the women of this country.
There are maybe many points that one may rely on to support the fact that giving women position in the new government should not only be termed as "balancing the gender gap", but it should be seen as something that needs to be done since we all are advocating for the empowerment and advancement of women.
If women are given the chance to go to school and spend years learning, like the men, then giving them positions to make use of that knowledge should not be seen as a privilege.
Everyone, Gambians and non-Gambians residing within the country and outside, has all agreed that the coalition came into being as a result of the efforts of a woman, who is now selected as the VP.
What more can't women do to see to it that this country is back on its feet again?
In the history of our country's politics and elections, there were lots of efforts done by our political heads, who are all men, to come together as a unified body every election, and to stand against the incumbent.
However, it never worked because of power problems between them. Even at the times when they succeeded, they never got the desired results at the end of the day.
The 2016 election, however, became different for the fact that there was a woman or women, who were the driving force behind a successful coalition that swept the polls; and for the first time ever defeated the incumbent at the ballot box without any iota of doubt.
The question then that comes to mind is how can we, as a nation, bridge the gender gap that exists in this country; and can be seen and felt across every sector of development in the country?
Considering the fact that all flag-bearers of registered political parties in the 2016 presidential election were men, and some of their running mates were also men, except for the independent candidate that was a woman, will they select women to run for the forthcoming parliamentary election in the name of balancing the gender gap?.
Every political party in The Gambia has strong and learned women beside them, who run the party affairs together with them; but when it is time for them to select flag-bearers, they tend to see only men who are suitable for the position.
I doubt if our political leaders are gender-sensitive or ready to work with women side by side.
As our dear VP and mother, Fatoumatta Jallow-Tambajang will take the oath of office in the new Government, and we hope to see improvement in terms of bridging the gender gap in government institutions.
We want a VP that will not be silent when a woman is arrested with her baby. We want a VP that will recognize and work with all women, regardless of their educational background.
We want a VP that will influence policies and bills that are geared towards the protection, empowerment and advancement of women of The Gambia.
We want a VP that will be creative, and who brings forward ventures that are geared towards promoting women's economic rights and needs.
We want a VP that will be the first to speak against any injustice levied against any woman, due to her choice of belonging to a political party of her choice.
We want a VP that will spearhead campaigns that will warrant women to have full control and say over their sexuality, and who promotes the sexual reproductive health rights of women in the country.
We no longer want to see the government using our women as clapping, singing and dancing beings; instead women should be seen as development partners in building this great nation.
If a woman can bring eight political parties together with different agendas under one umbrella, then imagine what they will do in moving this country forward.
If a male president can be referred to as President without people referring to them as 'male' president, a woman should equally be referred to as VP without us using the word 'female' VP.
Giving women positions in this new government is one thing, but letting them do their duty independently without being manipulated is another thing.
Women can only perform better in anything they are entrusted with, if they are not under anyone's dictatorship. So decorating the new cabinet with women, and not giving them the free will to speak their mind, and do the job the way they think and know how to do, is as good as not appointing them at all.
We have seen lots of elected and nominated women in the parliament under the previous government, that have been dormant at the National Assembly during sittings, and cannot even defend a bill that is in the best interest of women whom they represent.
In order for that not to repeat itself, we want the new government, in the name of balancing the gender gap, to give young women who are learned the chance to run for parliamentary election, and give them 50/50 representation with men so that bills concerning women sent to the National Assembly can be given a fair debate.
When the appointment of the VP was announced, some women welcomed it with open arms, saying the office of the VP should be able to defend the interest of women, because they expect a woman to know the hardship her fellow woman is going through.
Women of The Gambia are hardworking, and there is no political success without the participation of women. Women of this country work day in day out, during the rainy season and dry season, and yet they don't have the right markets to sell their produce.
The markets are not enough for them, and some of them encounter harassment from the authorities just because they are looking for something to feed their families.
Their gardens are dry, and they don't have the manpower to drill boreholes for themselves; and yet they struggle to be empowered economically so that they can see their children acquire quality education.
The least that the new government can do is to provide them with good drainage systems and inputs, so that their products can compete with their male counterpart, as part of balancing the gender gap for women to be financially independent.
We want the new government to unite all the women of this country under one umbrella, regardless of their political affiliation so that they can equally be represented.
Unlike before, we want the Women's Bureau to operate as a national bureau for all Gambian women, and not for the women of a particular political party to take ownership of it.
Let there be 50/50 representation across all departments; women and men working side by side, and not men abusing the rights of women such as denying them the 6 months maternity leave.
Furthermore, we want the Women's Act 2010, Women's amendment Act 2015, Sexual Offences Act 2015 and Domestic Violence Act 2015, and all other laws concerning women, be brought out of the cupboards, dusted and enforced so that the rule of law, in matters concerning women, will be promoted and enforced to the letter.
Read Other Articles In Article (Archive)