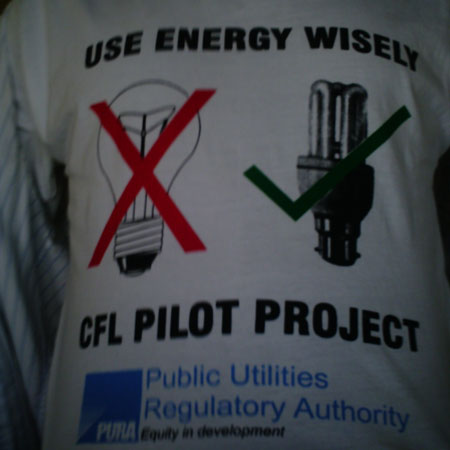 In furtherance of fulfilling their mandate in regulating the energy sector, the Public Utilities Regulatory Authority (PURA) on Saturday launched a massive energy awareness campaign known as Compact Fluorescent Lamps (CFL) pilot project.
Speaking at a ceremony held at Kanifing South, the Director General of PURA Mr.Alhagie Gaye revealed that the aim of the project is to raise public awareness about energy efficiency by demonstrating the economic and environmental benefits of using simple alternative technologies such as CFLs for lighting homes and premises. He revealed that the CFLs consume less electricity than regular incandescent bulbs. "Indeed incandescent bulbs whilst cheaper, suffer the disadvantage of converting most of the electric energy into heat rather than light. This is easily realised by simply touching them". 
The pilot project according to PURA boss, will install 2000 CFLs free of charge in 100 compound within the Greater Banjul Area to replace the inefficient incandescent bulbs. Each CFL bulb she noted has a lifetime of 6000 hours (or three years). Adding that the immediate impact of this, based on their projections, would save the average household between 200-300 dalasis every month.
Mr.Gaye encouraged the public to wisely use energy to save money and to ensure the equitable use of the limited resources.
He also thanked the community for letting them into their homes to replace inefficient incandescent bulbs with CFLs.
Read Other Articles In Article (Archive)