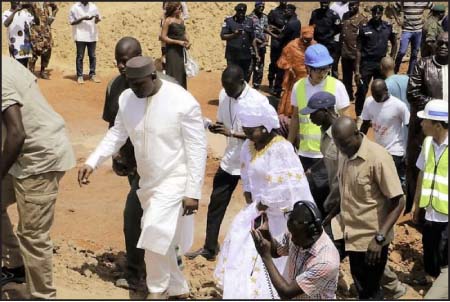 President Adama Barrow has promised the people of Basse that he will be provide them with a dry port, national oil depot and a 4-star hotel to expand the provincial town's development qualities.

He made this statement on Saturday 23 November 2019 at Basse Mansajang Upper River Region (URR) on day six of his Meet the People's Tour. The president initially held a meeting in Gambissara, in the Jimara District on the same day before proceeding to Basse.
Mr. Barrow said his government has realised the strategic importance of Upper River Region and Basse in particular towards accomplishing a planned development programme of the country, stating that, the region as an intended second capital of the country, should first be provided with facilities that could meet the requirements for a city.
"We have realised the strategic importance of URR and Basse in general to accomplish our development programmes," he said. "My government will create a dry port; oil depot and a 4-star Hotel at Sotuma Sireh in Basse which will help to open up development and a business space in the region. The dry port will serve as a facility of harbouring container for other materials from the Banjul sea port."
He said in order to transform the region into the country's second capital, certain development priorities such as the construction of good roads and the provision of sufficient electricity should first be available in order to open up to the most needed facilities required for a standard business hub of city requirement.
"We have recognised steps that have to be first taken to transform a region into full business center and that's why we began with the provision of roads and electricity to the region in order to attain plan of transforming Basse into the country's second capital," he said.
Read Other Articles In Article (Archive)