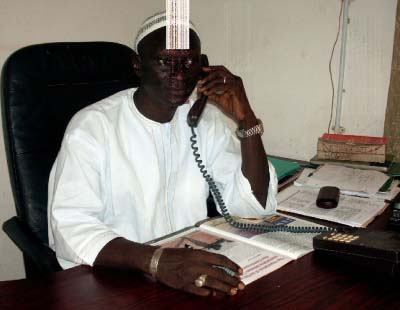 The community of Bansang in Upper Fulladu West district in the Central River Region on 28 September 2011 inaugurated a new community radio station.
The station is being supported by UNESCO, and people there no longer need to depend on Brikama Ba community radio for information, as was the case before.
The radio station, operating on the frequency of 107.2 FM band, is sponsored by UNESCO.
Speaking at the inauguration ceremony, Malang Saibo Camara, deputy governor of CRR, underscored the significance of information, adding that information is power and if the communities are adequately informed they will take the lead in their development aspirations.
Mr Camara hailed UNESCO (NATCOM) for their intervention in making their dreams come true.
 He added that UNESCO is very supportive in empowering communities, especially in information and communication at grassroots level.
He urged custodians of the radio station to know that it is a community owned property and they should endeavour to live up to expectations for its effective and efficient management for the benefit of all.
He urged the staff to be pro-active and vigilant in the crusade to satisfying their audience.
Makamang Badjie, chairman of the radio management committee, added that his staff have undergone training in radio announcement and basic journalism aimed at providing optimal service delivery in all programmes.
He stated that some of the programmes will be on health, environment, religious, agriculture, education, among others, that are directly linked to the well-being of the local people.
According to Mr Badjie, the staff are being supported by NATCOM until such a time the radio station could sustain itself, and there and then more staff and be recruited for effective and efficient operations.
"Already, they have started operating and people are responding during phoning and other programmes as well," he explained.
He appealed for more capacity building programmes for their staff to help provide standard service delivery to the community.
Sukai Bojang, secretary general of the Gambia National Commission for UNESCO, said the commissioning of the new community radio station in Bansang will, no doubt, bring the people in the area closer to each other and this will boost effective communication among the people in the area. 
She noted that this is a community owned radio and therefore the community has rights to be adequately informed and there should be cordial relationship between the operators and the communities at large.
Mrs Bojang challenged the staff on professionalism and executing or staging their programmes with effectiveness and efficiency.
She also assured the management of UNESCO's support till such a time the management of the radio station can take full ownership financially.
Read Other Articles In Article (Archive)