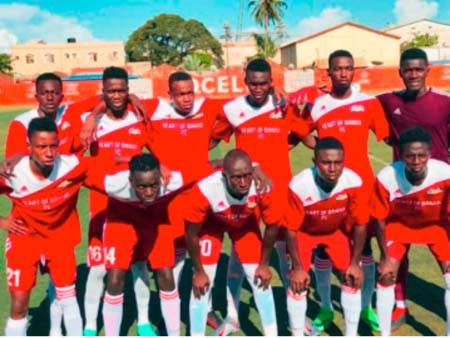 (Friday 18 October 2019 Issue)
Late Ebou Sowe and Warriors Football Clubs have progressed to the Bayba Financial Services-Sponsored knockout semifinals of Banjul, following post-match penalty shootout wins over Firehouse and Ngoyan FC on Tuesday and Wednesday.
On Tuesday, Late Ebou Sowe came from behind to beat Firehouse FC 4-2 on post-match penalties following a one all draw in regulation time. Firehouse took the lead through an own goal by Malang Kanteh in the 33 minutes.
Late Ebou Sowe alias Heart of Banjul found an equalizer in the 78th minute when Babucarr Faal succeeded in converting a penalty spot to send the game to penalty shootouts.
Heart of Banjul eventually won the shootouts 4-2 to complete the double over Firehouse after knocking them out of the league cup with a 2-0 victory on Friday.
Elsewhere on Wednesday, FC Warriors continued their unbeaten run in this year's Banjul Nawettan after beating Ngoyan 4-2 on penalties following a goalless draw in regulation time.
FC Warriors who are in both the league and knockout competitions after earlier defeating Ngoyan 5-3 on penalties shootout six days ago following a 1-1 draw in the regulation period on Thursday.
Ngoyan has now ended its Nawettan season after they were eliminated by FC Warriors from both the league and knockout competitions.
Meanwhile, at the time of going to press on Thursday, London City were battling with the last year's league champions MacDonald United in another knockout quarter final encounter, while defending champions Jamesen and Revelation will play today (Friday) in the final quarterfinal game to complete the lineup for the semifinals.
Today's encounter between Jamesen and Revelation will be a repeat of the league quarter final encounter in which defending champions Jamesen defeated Revelation 3-1.
The winner from this tie will entertain Late Ebou Sowe in the semifinal.
Read Other Articles In Article (Archive)