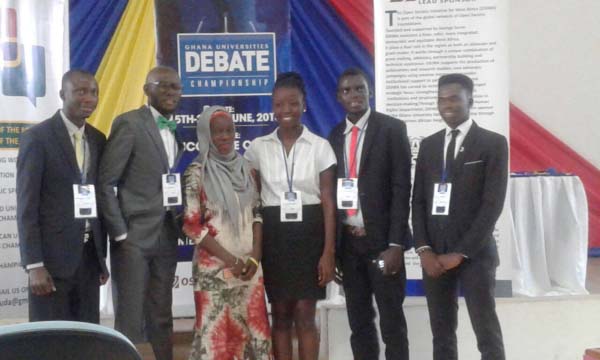 (Issue Monday June 28, 2016)
The two debate teams that represented the University of The Gambia (UTG) at the just concluded sub-regional debate competition held at the University of Cape Coast, Ghana, have made some impressive debates.

The annual competition, dubbed 'Ghana Universities Debate Championship', was organised by Ghana Universities Debate Association from 14 to 23 June, this year.
A total of 42 debate teams from 15 universities and tertiary institutions from Ghana, Nigeria and The Gambia participated in the event.
The UTG produced two debate teams, which comprised Alpha M.K. Lowe of the School of Education; Fatou Jeng, School of Journalism and Digital Media; Musa Sawaneh, School of Business and Public Administration, and Mam Mary Deeja Faye, Faculty of Law.
The presidents of the UTG Students Union and UTG Debate Association, Ansumana Bojang and Ensa Kinteh, respectively, served as adjudicators in the championship.
One of the teams, made up of Alpha and Mam Mary, made it to the quarterfinals while the other team, Fatou and Musa, stopped at the octo-finals, a round before the quarter finals.
UTG SU President Bojang expressed delight at the performance of the team for "the simple reason that this is the first time they participated in an international debate tourney and they were able to go this far".
He said the students union and the debate association as well as the university administration are proud of the debate teams.
Bojang also applauded Mustapha Kah, president of Debate Gambia and a former president of UTGDA, who was instrumental in training the debate teams in preparation for the Ghana debate. Ensa Kinteh, too, Bojang added, did help in further preparing the team while in Ghana.
The UTGSU President thanked the Gambia government and UTG administration for their support to the team, particularly, the finance director, Mr Kojo, who is also the coordinator of the UTGDA.
Meanwhile, the Gambian leader, President Yahya Jammeh, was recognised during the Ghana debate for "his outstanding support in the promotion of education for Gambians and non-Gambians".
The citation was received by UTGSU President Bojang and UTGDA Ensa Kinteh on behalf of the president.
Mr Bojang thanked the government for creating the enabling environment for students to explore their talents while calling on institutions to support debate as it promotes intellectual discussions and encourages critical thinking.
Read Other Articles In Article (Archive)