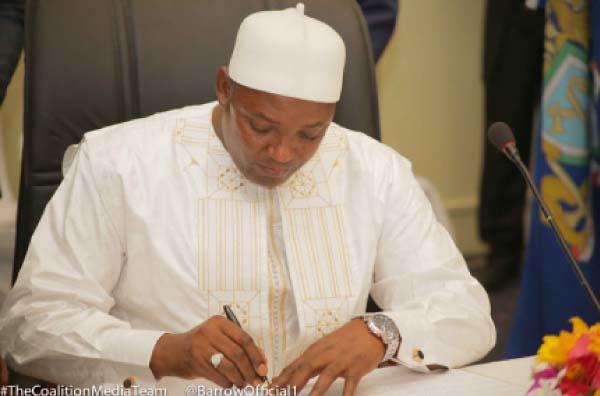 Banjul Muslim elders under the leadership of Imam Ratib of Banjul on Sunday paid a courtesy call on President Adama Barrow at his office in Fajara.

Meeting the country's leadership immediately after the Eid-ul-fitr prayer is a tradition dating back to 1900.
Muslim elders used their maiden Eid-meeting with President Barrow to pray for peace, progress and prosperity in the country.
The Chairman of Banjul Muslim Elders Alh Alieu Mboge assured the new government of their continued solidarity saying leaders are chosen by Allah.
Imam Ratib of Banjul Alh Cherno Alieu Mass Kah commended President Barrow for his "admirable leadership qualities".
He urged scholars and opinion leaders to be devoted to the upkeep of stability in the country and prayed for continued peaceful co-existence between Muslims and Christians.
The President Supreme Islamic Council (SIC) Muhammed Lamin Touray said leaders are ordained by Allah and urged all to support the new administration.
He said SIC was established in 1992 to serve as the umbrella body for all Muslim and propagate Islam in the Gambia, as well as provide support for the poor and needy.
He appealed to government to support the council to make it more viable.
According to the elders, the initiative was pioneered by Imam Momodou Mbye Njie.
They said it was through such Eid-meetings that Muhammadan school and the Cadi court were established in the Gambia during the colonial era.
In response, President Adama Barrow assured the Muslim elders of a new Gambia based on democracy and rule of law.
He acknowledged the important role religious leaders play in society and urged them to unite and promote righteousness in the country.
He underscored the importance of separation of powers and urged Supreme Islamic Council to take full charge of religious affairs in the country.
He said though his government inherited empty coffers, they will endeavour to support the council.
He commended the religious leaders for siding with the truth during the political impasse in the country.
The Overseer, Office of the Vice President and Minister for
Women's Affairs Fatoumatta Jallow Tambajang said the new administration has high esteem for the women folk.
She described President Barrow's presidency as solace from 22 years of torment they endure under the former regime while acknowledging the president's commitment to the development of the Gambia and the welfare of its people.
Mrs Jallow Tambajang commended professor Saliou Ndiaye Senegalese Ambassador to The Gambia for the role he played by convincing Senegalese President Macky Sall who in turn spoke to ECOWAS leaders to end the political impasse by providing security to nurture peace, tranquility and democracy which paved the way for Adama Barrow to be installed as President.
The Presidential Adviser on Religious Affairs Dembo Bojang reiterated the Barrow Administration's neutral stance on religious matters and urged religious leaders to take their rightful stance in promoting peace and security in the country.
Source:GRTS
Read Other Articles In Article (Archive)