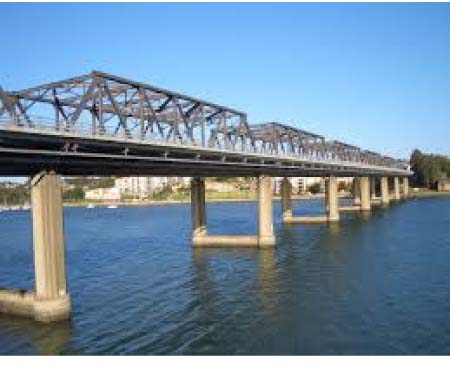 The joint technical committee of The Gambia and Senegal on the proposed Trans-Gambia Bridge project convened a meeting in Banjul on Wednesday May 14 which discussed construction of the bridge and border posts.
A grant from the AfDB will facilitate the construction of a 942-meters-long bridge over the River Gambia at Bambatenda-Yellitenda.
Gambian and Senegalese official at the meeting also visited the Tran-Gambia ferry crossing points and the proposed sites for the border posts.
As part of the project, there will be two joint border posts, on either side of the bridge, at Misira-Senoba near Somaand Kerr Ali-Kerr Ayib near Farafenni. These border posts will house offices for customs, police and immigration services of the two states.
Another component of the project is that the bridge will have toll facilities, so that vehicles crossing the bridge pay a fix fee.
Lamin Bojang is said to be the project coordinator, and was reportedly instrumental in the construction of both the Oyster Creek (Denton Bridge) Bridge and Sankulaykunda Bridge.
According to our sources, this was the third meeting of the joint technical committee, which has a mandate to meet regularly to monitor implementation of the transport facilitation component of the project; to carry out necessary activities, as well as exchange information on all issues that are likely to impact on transport and trade facilitation along the trans-Gambia corridor.
This corridor has been described as a vital economic and strategic link to the north and south of both the Gambia and Senegal, as well as ECOWAS countries through the ongoing Dakar-Lagos highway project.
The Trans-Gambia corridor is regarded as one of the main constraints to a functional regional road network.
The permanent secretary ministry of Works, Abdoulie Camara, speaking at the meeting said a bridge at Tans-Gambia will allow free traffic flow between the northern and southern parts of both The Gambia and Senegal.
Part of the transport corridor project requires the upgrading of both sections of the road linking the bridge to paved standard.
The bridge project also complements the goal of ECOWAS to facilitate the movement of people, goods and services.
Read Other Articles In Article (Archive)