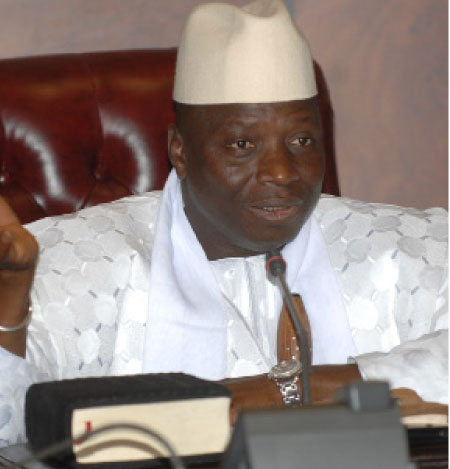 The ban on the importation of frozen chicken legs into the country will take effect come September this year, President Yahya Jammeh has told a meeting in Basse, Upper River Region.
Continuing his dialogue with the people tour, President Jammeh also told thousands of APRC militants that a similar ban on the importation of rice will take effect in 2016 'in order to strengthen local food industries, as well as promote food self-sufficiency and good health.'
The government through a press release from the Office of the President earlier this month announced a ban on the importation of chicken legs into the country, saying government has taken the decision to protect the health and welfare of the public, and to ensure that consumers get value and quality for their money.
"After a careful review and consideration of trade and health related issues, the Ministries of Trade and Health inform the general public and all importers of frozen foodstuff that government has decided to ban the importation of frozen chicken legs into the country with immediate effect," it said in its press release.
Addressing the meeting in Basse, President Jammeh attributed the high rate of health morbidity in The Gambia, despite the numerous healthcare facilities, to the type and quality of food that people eat.
The Gambian leader reiterated his call for Gambians to grow what they eat and eat what they grow, in order to be healthy, self-sufficient in food, as well as remain productive.
He called on cattle owners and dealers to be God-fearing and merciful and desist from over pricing their cattle, especially during the Muslim holy month of Ramadan.
Addressing a similar meeting in Gambissara village also in the Upper River Region, President Jammeh promised the villagers that the feeder road linking the highway to Gambisara will be constructed after the rain season.
While urging them to expand their road as the road where it enters the village is too small, the Gambian leader said as rapid development is coming into the village, it is necessary for the villagers to extend the road.
He urged the villagers to sit and discuss particularly those residing around the way on how to extend the road.
"If you are not ready to expand the road in the village, the road from the highway to the village will not be constructed,' he told the villagers.
Yankuba Colley, APRC National Mobilizer commended the people of the Upper River Region for rallying behind President Jammeh and the APRC party.
Other speakers including Fatou Lamin Faye, Minister of Basic and Secondary Education, Momodou Aki Bayo, Minister of Regional Governments and Lands and Bala Garba Jahumpa, Minister of Health and Social Welfare, all highlighted the developments registered by the APRC under the leadership of President Yahya Jammeh.
 The tour continues.
Read Other Articles In Article (Archive)