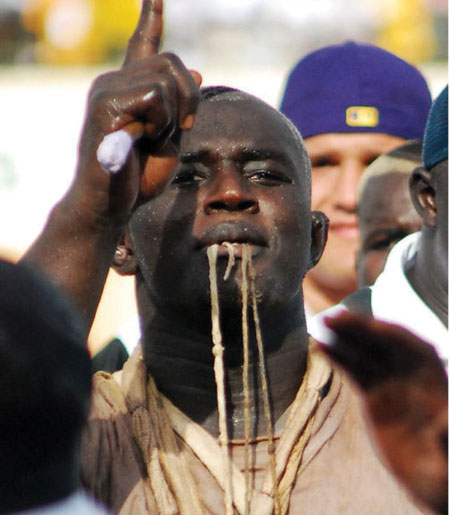 Gambian journalists from various media houses on12 May held a press conference with Senegalese new champion wrestler Balla Gaye 2, at Senegambia Beach Hotel and discussed significant issues to the development of wrestling in both The Gambia and Senegal.
The Senegalese champion, who has fulfilled his promise of visiting The Gambia soon if he defeated the former Senegalese champion Yekini, arrived in Banjul  last Friday with his father Double Less , Less 2, Sanchez,  comedian  Kucha and other members of his support team.
In expressing his delight to Gambians, the wrestling champion promised to further strengthen the relationship between the two countries.
He said he would like to have a wrestling school and a field arena in The Gambia, to be named after him, which he believes will help in the development of wrestling in the country.
Asked about his victory over his opponent, Balla Gaye said he would first like to thank God for it because his victory was from God and that he only made the efforts, which led to the fulfillment of his aim.
There is time for everything, he says, adding that before he took over from Yekini, there were a lot of champions before the latter.
Balla did encourage Gambian wrestlers to have faith and passion in what they do and to put much seriousness in it. "If I did not put seriousness in wrestling, I would not have been the champion today," he said, while encouraging grassroots wrestlers to keep up their efforts.
The Gambia's king kora Jaliba Kuyateh said he invited the Senegalese wrestling champion because of the intimate relationship between The Gambia and  Senegal, adding that he would do all he could to enhance the relationship.
Jaliba urged Gambians to take wrestling seriously as it is a national sport in The Gambia, with great potentials of spurring sports and development in the country.
Expressing his happiness, Balla's father, Double Less, said: "My son's victory over his opponent was the greatest joy I have ever got from him."
He thanked President Yahya Jammeh for the love he has been showing and the support giving to wrestling.
In his remarks, the executive secretary of the National Sports Council, Mamudou Max Jallow, commended his Senegalese counterparts in sport for their good work and promised to work collectively with them in the development of sports, especially wrestling.
Max Jallow, on behalf of the Gambia government and the Ministry of Sports, thanked the Bala Gaye convoy and welcomed them to the partnership of sports development.
He also urged Gambians to invest in wrestling as "it is The Gambia's national sport".
Read Other Articles In Article (Archive)