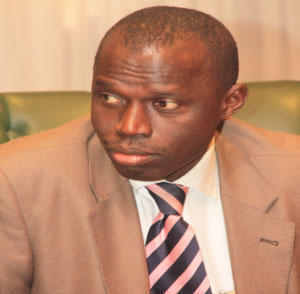 Gambia's Trade Minister Abdou Kolley is one of those who would love to see Gambia's indigenous businesses utilize incentivesand reap the benefits of the support and protection the Gambia government is giving them to grow and stand shoulder to shoulder with, if not surpass, foreignbusinesses and companies operating in the Gambian and regional markets.
Minister Kolley, whose ministry is in charge of trade, industry, employment, and regional integration, has continued to urge Gambia's domestic businesses and entrepreneurs to form partnerships and corporations to be able to maintain business discipline, put in place proper accounting and auditing mechanisms as well as increase their negotiable power when dealing with financial institutions to access credit to grow their businesses.
While the Gambia government through his ministry would continue to aid Gambia's infant businesses and industries to grow and become giants as it happened with Toyota of Japan some seven decades ago and many other infant companies being bailed out by their governments to grow and become giant exporters, Minister Kolley said they cannot as a government, continue to prevent other companies or businesses from entering the Gambian market just to protect the country's domestic business.
Speaking at a recent Business Forum on the theme 'Domestic Investment as a catalyst for Foreign Direct Investment, held at the Kairaba Beach Hotel, Minister Kolley urged Gambian entrepreneurs to do away with the setback spirit of lack of trust and trustworthiness and form partnerships and corporations that would give them muscles and strength to compete both locally and internationally.
He says: "There is one fundamental element in forming partnerships, which for me is lacking, and that is the issue of truth and trustworthiness – the two go together.
"I have to be able and learn to trust my partner. If I don't have management expertise and skills but we come together and set up a company I have to trust that person to be able to manage my funds and resources for our benefit. And trustworthiness comes where I trust a particular person to lead and manage our joint venture. That person has to be trustworthy in the sense that he should be able to manage that corporation…."
The Minister continues: "So let's sit down together as a chamber [Gambia Chamber of Commerce and Industry], as a private sector and encourage dialogue between and among our entrepreneurs. There are so many of them doing the same things, but if they come together they would be able to grow and face the steep and growing international competition.
"We cannot as a government, continue to prevent other companies or businesses from entering our market just to protect our domestic business.
"Whilst there are instances where you can protect local domestic businesses, you also have international obligations which we have subscribed to as a country and which we must respect.
"But if we come together we might be able to build strong and formidable partnerships and alliances then we will be able to compete with other companies that are here with us in our market.
"Today in our ECOWAS sub-region we have lots of opportunities.A company established in The Gambia can export duty-free, quota-free to any member of ECOWAS.But to be able to do that you have to have the muscle, and how do you get the muscle – one way of doing it is through partnerships and coming together to form corporations.
"But if you are too small it will be very difficult to compete against big companies, and we cannot prevent companies within ECOWAS coming into the Gambian market in the name of protecting domestic business."
Read Other Articles In Article (Archive)