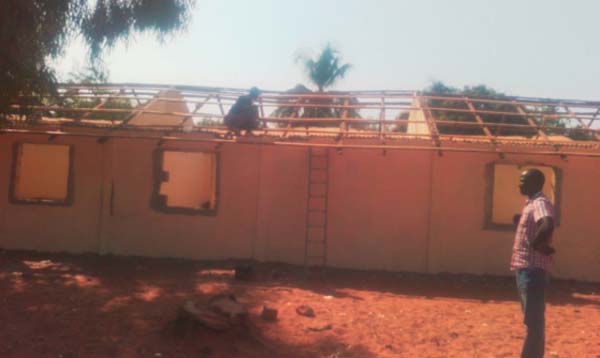 Hazel Foot Print Trust and Share Foundation UK Base Charities on Thursday donated computers and funded The Gambia arts Project at Bakau Lower Basic School.Each Charity contributed 5000 pounds making it a total of ten thousand pounds.The donation was in partnership with Affecting Real Change, a charitable foundation based and registered in the United Kingdom, The Gambia and Indian.

Speaking recently to The Point, the founder of Affecting Real Change, Musa Saidy, said they are currently building a computer lab in Bakau New Town Lower Basic School and are also rolling out a project for the school called the Gambia Art project.
He said the two projects are geared towards helping in enhancing students' knowledge and understanding of computer and art at early age.
According to Mr Saidy, the two projects – the computer lab construction and the art project - are funded by different charitable organizations in the UK to the tune of £10,000 .
He said the building of the computer lab started since 11 January 2017 and it is expected to finish on 25 February 2017, when the new lab will be handed over to the school headmistress together with computers in for laboratory. The volunteer sponsors and facilitators of the project "are currently in The Gambia making sure the work is completed as planned," he said.
Saidy said the intervention as timely, adding that the computer lab will go a long way in boosting students' knowledge and understanding of computer skills at the early age of childhood.
"It will also make teaching more attractive and easier for teachers," he added.
He said the students are academically sound and would certainly utilize the lab wisely.
Mr Saidy also thanked the donors for their invaluable support to the school and pleaded with them to continue doing more for children in The Gambia and beyond.
Elicia Morgan, who spoke on behalf of the donors, expressed gratitude to the management of the school for partnering and cooperating with them to achieve results, saying the projects will be of immense help to students as, for instance, the computer lab project would let them understand computer science at early age.
Madam Morgan, in her remarks, assured the management of their commitment as a charitable foundation to continue doing more for the school as a charitable foundation.
She also appealed to the school headmistress to allow the students to be using the computers, as they are mainly for them, when the lab is handed over to the school management on Saturday.shares foundation is sponsoring the Gambia Arts project for the pupils and teachers at thee said school.while Hazel foot print trust sponsor the computers lab.
Read Other Articles In Article (Archive)