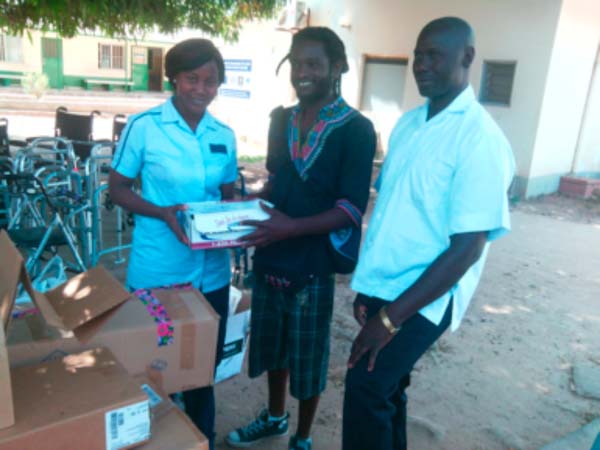 Alieu Sanneh, a Gambian based in North Carolina (USA), on Thursday donated medical items to the Brikama Health Centre at a ceremony held at the health centre grounds.

The donated items included BM machine for diabetes, armchairs, wheelchairs, injections, needles and other items.
In receiving the items on behalf of the health centre, Alieu Sonko, Officer-in-Charge of Brikama Health Centre, speaking on behalf of the health centre and the Ministry of Health, said health is very expensive and as a result the government alone cannot do everything. Rather individuals, organizations and families have to come on board to complement the efforts of the government, he added.
"In so doing, it would go a long way to reducing the mortality, especially the vulnerable group, who are mostly the child-bearing mothers and the children under five years," he said.
Mr Sonko said that "mortality in The Gambia is still high so "we need collective efforts from the communities, individuals in the health sector and the government to put hands together to ensure mortality rates are reduced.
He thanked Alieu Sanneh for his invaluable contribution to providing the materials to the health centre.
In his remarks, Alieu Sanneh, donor of the items, said he is a Gambian who hailed from Brikama Wellingara and is now living in North Carolina (USA) working in the healthcare domain in the US and had been helping health centres over the years in The Gambia.
"So this time I decided to collect some medical items to donate them to my country," he said. "I have been talking to a lot of people in the US who also contributed some of the items. I did this just to contribute to the community's development."
Cecilia Mendy, head of the Maternity Unit at Brikama Health Centre, said the items are very useful to the facility, as they would go a long way in helping to improving the work at the health centre.
She thanked the benefactor and donor for showing true patriotism and love for his country by bringing back home items that are used to save lives.
Dr Bubacarr Kambi, also working at the health centre, said: "I have seen a number of medical items that could be very useful to the patients and the community at large and I hope what Alieu has just done many other Gambians from their various communities could emulate him and do similar thing to help their own communities."
He added: "There are a lot of materials that are very useful to us and there are so many things lacking in our facilities; so such gestures are always very welcome.
"We thank Alieu for his efforts to bring these items to this health centre."
Read Other Articles In Article (Archive)