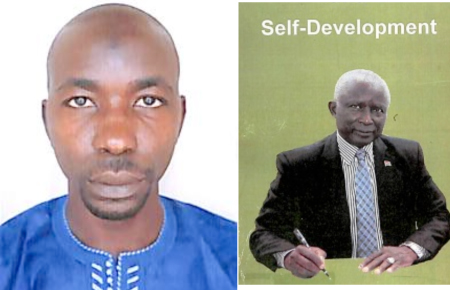 Book Title: IN SEARCH OF KNOWLEDGE AND SELF-DEVELOPMENT

Author: Muhammad IS. Gassama
18th March 2017, UTG Law Faculty, MDI Road
This book is a product of the personal history and experiences of a retired but not tired Gambian diplomat, a bi-lingual writer and continental public servant that has served more than half of his life in the service of the African continent through the defunct Organisation of African Unity (OAU), and later the African Union (AU). He was a career diplomat before his stint at the OAU, and later AU.
If a memoir is a historical account or biography written from personal knowledge, and an autobiography is an account of a person's life written by himself, this master piece by a master story teller, Muhammad Imam Sambou Gassama, is indeed, both a memoir and an autobiography of the first order. This is against the background that it is a fitting frame for a personal tribute as in the title, "In Search of Knowledge and Self- Development".
Such a tribute by oneself, as in the case of Gassama, is unique in that it is a break from the general norm of presenting tributes. This is against the backdrop that who else can tell another's story at best than oneself. No doubt, this is a fact of life! And what makes this story and /or tribute poignant and telling is that unlike most tributes that are often done when the subject in question has passed on, Sambou Gassama tells his own story as a living legend, as he narrates his story from the horse's mouth. Just like in the Mandinka age, "chow pii-ro kadeya wolo lay da-kono". In view of this, the author allows his distant recollections to flow in their natural way without any attempt to direct his train of thought in capturing them. Thus, my task, is therefore a serious challenge, in that, this occasion is meant for a budding story teller to convey the story of a master story teller. I wonder how fair it would be for me to review a senior's work, much more a work on his life. I hope I would have done justice to my task at the end of this review, laughs.
It is a memoir and autobiography consisting of 29 chapters and a conclusion, fitted and weaved in 184 pages, highlighting 32 years at the OAU (now the African Union). And Indeed, this memoir is a catalogue of the author's trial and tribulations as depicted in the title, In Search of Knowledge and Self-Development. It examines the modest beginning of Sambou Gassama, the son of a migrant tailor resident in Banjul, the struggles to pursue Islamic education or otherwise as wished by his father for his son to become a "Foday" – Islamic scholar. It also chronicles the challenges of meeting a father's expectation of such a desire at all cost no matter how far away from home, which also resulted in the occasional contestation of a mother for such a wish for a young and innocent child after some failed initial attempts to make young Sambou Gassama a Foday. The experience in the Kombos, especially in Sanyang Village, was quite disturbing to say the least.
As it will be shown below, the struggles and challenges in this work would be emboldened by these quotable quotes: Winston Churchill, "Courage is going from failure to failure without losing enthusiasm"; Robert Frost, "The best way out is always through"; and Baltasar Gracian, "Without courage, wisdom bears no fruit".
In this regard, the story highlights his adventurous journey in realizing his supposed dream to places like Thies, St. Louis, Dakar and Sudan; before his ambition came to fruition. But it must be said that this experiences were without some consequences, as he persevered to pursue his dream.
The story also chronicled the experiences of his desire and quest as well as challenges and constraints to learn English, his days at the Daara in Sanyang Village in the Kombo's and Lamin in Niumi, but particularly the wretched experience in the former; university education, job hunting, the frustration of being a teacher in Brufut and Malfa schools with the often misguided perception and/ or living the life of an Ustas or Islamic teacher.
The life, opportunities, challenges and limitations of a diplomat in Libya and London, as well as living and working as a continental public servant for a supra-national organization like the OAU and then AU, retirement and life after retirement are succinctly captured in the work. The tell-tale in this memoir is therefore a must read for all and sundry.
The author is indeed grateful to all those who crossed his path in one way or the other during the course of his life, and as time and space cannot allow in this review, they are all recognized for their effort and contribution. However, some names deserved special mention.
Nonetheless, the author begins by unreservedly acknowledging and thanking all those who in one way or the other made this book a success, especially Kalipha Manneh, a Gambian fellow, and laboratory technologist at the AUC Medical Services Directorate, who spurred him into a challenge that ultimately led to this book; Victor Afagbegee, a longtime former colleague, who accepted to write the foreword, and his publisher-friend, Fodeh Baldeh.
Although he takes responsibility for any error in this book, I kindly differ from this contention, as in the words of the late Guyanese and revolutionary scholar, Walter Rodney, this is called "bourgeoisie subjectivism". This is because any work of this nature involves a collective, and as such, any error there in should be collective.
This memoir is therefore a perfect response and product of a suggestion and challenge. The pattern of the work does not follow any academic or scientific methodology. Rather, and in the words of the author, "what I did was to allow my distance recollections to flow in their own natural way without any attempt whatsoever to direct my train of thought in capturing them (p. 13).
The book is a story of the 5 Allen Street young man then, whose father's desire to turn his first male child into a "Foday" – Islamic scholar from Banjul to the farmlands of Jibooro in Niumi Lamin at the age of 8. Before then, he lived out his childhood dream of any child like riding bicycle (falling down times without number) around Bund Road area, daaras and the jungle justice of picking up blows, as well as swimming in both Lamin and Banjul. For fear of the sea or water phobia, he would accompany his friends to swim and admire them but he still cannot swim largely due to fear. He recounted the death of Modupeh as a constant reminder about the sea. It became a rude awakening and danger about swimming that continues to haunt his conscience to this day, especially his first experience of seeing a corpse (pp. 14-15).
The father was determined in making sure that his son becomes an "afang or arfang"- a student who would eventually attain the coveted title of "Foday", Mandinka for an accomplished scholar or a professor (p. 17). Sambou's father, Almameh, the tailor, had become popular in the Greater Banjul Area among his wide clientele.
On account of realizing his wish for his son, Sambou Gassama was sent to Afang Sambujang Ceesay in Sanyang Village, in the Kombo's for one and half years. This attempt failed when it was discovered that the young Gassama was being abused and exploited by Afang Sambujang's wife, Sissending Dabo, to perform all manner of chores other than learning (p. 18). Following this discovery by Baaba's father-in-law, Baaba saw the young Gassama virtually … in shabby dress, emaciated with visible traces of starvation and frustration, which was very visible on the innocent child, as the father was stunned to the core. Sambou's mother, Fatou Njie Funneh, who had never been consulted on Baaba's decision felt more shattered (p. 18).
Determined to get his son acquired Arabic or Islamic education, he was enrolled at Pa Janneh's daara, opposite 18 Allen Street. He recall how his father had to put him in a Daara very close to their house in Banjul so that he could keep an eye on him, as in his own words, he was virtually dragged into the class (p. 20). This was before he was sent to the village of Lamin, in Niumi under the venerable Islamic scholar, Karang Junkung Jaiteh (p. 19).
He recall with clarity the beating they underwent in the hands of some senior students or Magi Daara or Head boys like Batch Faal, Kebba Samateh, Nai Ceesay among others at the daara for failing to remember what was taught the previous day.
In spite of being born and bred in Banjul, his father could not hesitate to send him away to Karamo Junkung's care to acquire the all-important education in Niumi Lamin against the mother's fierce resistance (p. 24).
As all work and no play makes Jack a doll boy, the young Gassama vividly recounts some of his past time activities like following wrestling activities from village to village in the Nuimi's. He argued that in those days, Nuimi Lamin was second to none as the village boast of the indomitable Masaneh Sonko who rose from a village champion to a national wrestling hero (p. 24).
The Bantaba was also a regular rendezvous spot for all manner of social interaction among the youth. The taboo about drumming was broken, and the introduction of music and musical instruments also emerged, and the inauguration of these musical appliances was characterized by pomp and pageantry as the jubilant boys and girls danced their heads – off to the melody of records played (p. 27).
Farming activities at the Jibooro farmlands were common, as the students were made to work for their karamo/teacher every Thursday as a conduit for their fees and sustenance, and although the teacher expanded the farmland for large scale farming. It could be interesting to see how a Banjul born and bred young boy then would put up with such farming activities. The rest is history, and kindly read the book to follow the story (p. 32).
Cultural issues were wide spread like initiation and it attendant vices involving Nansinoolu and Kintannoolu. The idea was due to expose the initiates through set off shared traditional moral values and secrets. However, he deplored the dying of this important tradition and cultural value (p. 36).
Still in his search for knowledge, Sambou Gassama was also placed under Karang Sulayman Junkung Jaiteh, who received him with opened arms, and Karang Jaiteh never regretted his admiration for the young Gassama because of his brilliance and focus on his studies, which took off with speed (p. 39). However, in spite of his seriousness and intelligence, and as a child, his occasional waywardness was eminent as this was accorded with some beatings for refusing to do his assignment (p. 41).
Among the few things that he taught himself was English through the coaching of his longstanding friend, Alpha Bashiru Rahman King (Touray), who taught him the English alphabets, some vocabulary, and elementary reading and writing. Thus, listening to radio, reading various books on different subjects and also engaging people in Arabic conversations paid well for him in honing his skills.
Determined as ever, and in his search for knowledge and self-development, he then registered at the British Council Library, the current location of the National Museum - the National Centre for Arts and Culture (NCAC), to borrow books for reading and studying. In either Lamin or Banjul, he continued to seek the guidance of teachers, and assistance like his cousin, Jerreh Touray. The late Seyfo Jerreh Bojang of Brikama, Mr. Faal and Mr. Dem of Albreda Primary School were useful in consolidating his strong sense of self-application and personal orientation (p. 43).
Formal English studies only started at university in Sudan, where English became one of his major subjects at the Islamic University of Omdurman, where he graduated with BA (Hons) in Arabic Literature, in 1973.
He admitted that his love affair with seeking knowledge was not limited to English, as he was also learning how to speak Arabic at the Majlis. He recognized that while many were not up to the task of speaking Arabic fluently, yet there were many poets like Situkoto Dabo and Alieu Saho, just to name but a few in whose footsteps he later followed (pp. 44-45).
Listening to BBC Arabic was useful in honing his Arabic speaking skills, as well as listening to other Arabic speakers and reading Arabic books during his posting in Brufut as an Islamic Studies Teacher, under the Gambia Islamic Union. His Arabic speaking was aided by other teachers Kering Drammeh, Hatab Bojang, Mass Kah. But prominent among them was Ustas Sobki Sillah, who taught him first in a formal Arabic school, in Dakar (p. 45).
Given his speedy improvement and progress while in Brufut as a teacher, he started presenting the weekly Friday Islamic programme, entitled "The Muslim World", at Radio Gambia before going to the Sudan. It continued on a weekly basis in both Arabic and Mandinka.
In 1965, young Gassama decided to leave Nuimi Lamin to embark on his ill-fated journey in search of knowledge to Thies, Senegal with a Cassamance native, called Sulayman Camara. The adventurous journey was so challenging that his adventurous mate had to abandon the journey after several struggles, menial jobs and other worries. In spite of the suffering and frustration, he made it to St. Louis before Dakar. These moves were not without several challenges, and to paraphrase as the author contend, "just like the Back way maniac, it was a question of Arabia or Barzac" (p. 51)!
The journey from Thies to St. Louis was so cumbersome and challenging that for the first time in his life that he went for two days without food. Compounded by this, he found himself in the midst of people so different from him not only in terms of physical structure but in their mannerism that he found himself completely lost and disconnect (p. 55). What a rude awakening!!!
Notwithstanding, the experience became a blessing in disguise as he was directed to the Zawia hostel that was meant for stranded people on the move like him. Thus he was enrolled at the Zawia Madrasa under the tutelage of Sheikh Yacoub Faal, who taught him Arabic grammar, syntax and some linguistics. He was accorded some very humane treatment as food and shelter were no longer a burden (p. 55).
In his admiration and love for St. Louis, he remarked, "historically, St. Louis is dubbed as the ancient capital city of Senegal with its three parts linked together by a bridge. It is very much representative of a rich cultural city par excellence and home to acclaimed scholars and memorizers of the Holy Quran just as it is famous for its delicious cuisines, good taste and elegance of its proud inhabitants" (p. 56).
"All in all, it is a city that prides itself on being the powerhouse of knowledge and culture. Its people are kind, friendly and consciously religious. They make one feel so much at home because of the care and attention within which they treat their guests. This was why I fully enjoyed my one year or so sojourn in such congenial environment receiving instructive lesson from my erudite teacher" (p. 56)! In fact, he still reckoned all that was offered and done for him, years after living there, and yet, he still feel some sense of nostalgia anytime St. Louis is mentioned.
Ambitious and still determined to pursue his dreams, in search of knowledge and self-development, he then proceeded to Dakar for enrolment in a proper Arabic School. The Dakar adventure led him to the mentorship in Ustas Sobki Sillah's Arabic school, where he was taught various subjects. The influence of Arabic phonetics greatly improved his pronunciation skills (p. 58).
On hindsight, he still cherishes the effort of the then President of the Gambia Islamic Union, Alhaji Muhammed Lamin Ceesay, fondly called Tankular Ceesay, who enabled him to obtain a teaching job at the Union's Arabic/ Islamic School in Brufut (p. 60).
Giving the novelty of obtaining a degree, an even after his initial dreams of securing a scholarship for a coveted degree failed, this never deterred the young Gassama then as he continued to nurture his dream until it became a reality (p. 64).
In 1969, he finally obtained a scholarship to go to the Islamic University of Omdurman, Sudan, to pursue a four year degree programme in Arabic Literature, alongside other Islamic courses and English. It must be stated that it is at university that he formally study English, albeit his initial study of English was self-made through friends, teachers and other acquaintances for self-development. On the road to Sudan after obtaining the award, the struggle of meeting the cost of air ticket to Sudan and stranding in Accra were quite telling. However, this never deterred the young Gassama as he remained focused on the ultimate goal ahead. The rest his history, as in addition to obtaining his degree, he also succeeded in meeting a father's wish of performing the pilgrimage to Mecca before his home return!!!
Other strong cultural issues like a father selecting a first wife for a male child came hunting, as the young Gassama was made to marry a wife against his will. However, it is instructive to note as in the words of the author, it was a blessing in disguise as there was no regret in doing so (pp. 92-95).
He decried the conditions of service and teaching at the Malfa School with high sense of frustration and lack of motivation that made him conclude that he was not cut out for the profession (pp. 96-99).
In his life as a diplomat, first at the Gambian Embassy in Libya, it was not a good beginning as it took off with contractual issues that the Libyan Government had initially failed to meet, the weirdness of the late Libyan Dictator, Col. Gadafi and his utopian dream of the Green Revolution (pp. 100-111) were common place.The experience of the challenge of posting in London, against the studying at Cambridge versus the prospect of promotion was interesting. It was indeed a case of a Frostein scenario is his poem, entitled "The Road not taken". Guess what, the answer can be found in the book.
Following his appointment as Arabic Translator with the OAU/AU, the work in itself was not entirely new as he has done some translating work during his stint at Radio Gambia for hosting the Muslim World weekly programme and visits to Sierra Leone with a Mauritanian businessman (pp. 68 & 70); although it was a bit different from the new challenge of the OAU/AU work.
Life at the OAU/AU in the 1980s, coupled with the pros and cons of resorting to such a decision and the people behind it; work as an Arabic Translator, as well as learning on the job and perfecting his skills are all documented. The challenges of work and the unfair professional treatment by colleagues, coupled with nepotism at best and racism at worst, learning on the prelude to professional leadership roles of the staff association, first as secretary and later as president with the achievements and attendant challenges or short comings are quite interesting for anyone who cares about such responsibilities to read and adhere to it.
The exigency of a continental public servant, a family head, loss of father while on duty, mostly away from home can be heart rending, and sometimes filled with guilt for being away during such times. How to cope with the loss of a wife, and thereafter a mother, and the way forward and life after retirement; are some of the embodiments of this memoir, In Search of Knowledge and Self- Development. Grab your copy now, now, now, …!
He confessed that the most important lesson that he learnt in all the places he visited and lived, "was the imperative need for one to be at once versatile and resilient for one's own continued survival and success in life". He noted that this was what enabled him to always grapple with the harsh realities of life to the extent that he can still live, eat and sleep anywhere and under any conditions, when it comes to the crunch (p. 63).
This memoir is indeed one of the best personal histories of our time. The sequence of events as they flow and captured in their natural form is a significant measure by any indication. But it must be said that it takes wisdom and serious deductions to tell such a story. The author's choice of words, and the beauty of the language flow can only be likened to the flow of the River Gambia, as it meanders to empty its waters into the Atlantic Ocean. The experiences shared by this master story teller, Sambou Gassama, is larger than life itself, and as such, it is a must read by all manner of students, and elders for life long reading.
As I end this review, just like the life of Sambou Gassama, I will live you with this quote by Henry Thomas Hamblin, "a man's success depends, more than anything, upon his faith; his faith in the good purpose of life; his faith within him and his ability to overcome every obstacle in his path.
Once again, I wish to thank the author profusely for crafting such a work for public consumption.
Read Other Articles In Article (Archive)