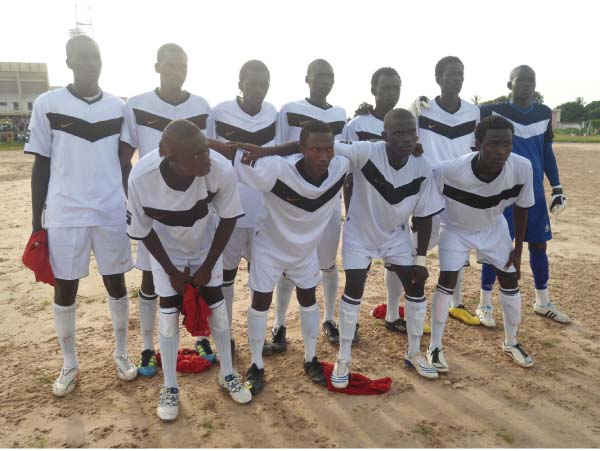 Two magnificent strikes from playmaker Saihou Conteh and another solo effort from striker Abdoulie Barrow were enough to secure quarterfinal spot for Zuwa FC as they crushed to a decisive 3-1 win over helpless Kairaba FC in their final group stage match of the ongoing Bakau Nawetan on Monday evening.
The visiting side, who entered the hitting clash on the back of two consecutive draws against Milan and Bremen Border, endured a frustrating first half spoiled by series of poor finishing tactics, particularly from goal scorers Abdoulie Barrow and Saihou Conteh, who could have both scored more.
Despite their fail attempt to survive the group stage of the 24-team campaign, Kairaba, who were without the services of their inspirational captain Alasana Camara, resumed their pursuit of collecting the maximum points but three second-half goals in quick succession dented their winning aspirations when Saihou Conteh hammered them with a brace after Abdoulie Barrow netted Zuwa FC's second of that evening.
The home team responded well and their efforts were finally rewarded with a late goal, which only proved to be a consolation.
While the win has placed Zuwa FC at the top of Group C with nine points so far, the defeat has sent their Monday's opponents (Kairaba) packing as they bowed out of the tournament with two points in five matches.
Other results in the ongoing Bakau Nawetan saw Linguere recovered from their opening game defeat to rivals and neighbours Julangel to secure four consecutive wins in the campaign as they opened up a one-point gap at the summit of Group B with 12 points one more than Julangel, who have also advanced to the last 16.
Linguere's latest victory came against Junior Arms whom they beat 2-nil courtesy of goals from aggressive defender Lamin Dampha (nicknamed Simple), who scored both goals in the second period to salvage a massive victory for the Bakau New Town outfit, who remain one of the strong favourites to claim the title for the time in as many years.
Meanwhile, the group stage of the Bakau Nawetan is expected to wrap up on Thursday with a crucial game when two Bakau giants - Vidar and Milan - travel to the Independence Stadium to rub shoulders in what is sure to produce a decisive clash.
The winner in that tie will join Zuwa FC in the last 16.
Read Other Articles In Article (Archive)