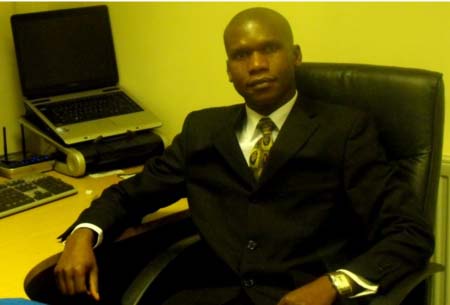 The third edition of the Bajana Marathon organised by the Gambia Volunteers Trust is set to take place on 4th April 2015.
Speaking at a press conference held at the Daily Observer newspaper on Monday 27th October 2014, Roy Sanyang, CEO Gambia Volunteers Trust, said long distance running is as equally important as any other sport in the country, but is not given the publicity it deserves, which is why they came up with the initiative to organise the annual event to promote the sport.
During the first edition of the marathon in 2013, they supported five people, he added, adding that they took athletes to UK to represent the country in international competitions over the years. He called for more partners so as to send more athletes to international events to represent the country.
Gambian athletes when supported will shine the international level, he pointed out, adding that only competing nationally is not enough for the athletes.
They have already secured a ticket from Gambia Experience for the winner of the marathon to compete in England next year, he announced, and hoped there would be more tickets for athletes to compete internationally provided institutions come forward.
The Gambia Volunteers Trust Founder thanked President Yahya Jammeh for his July 22nd Marathon initiative, describing the marathon as a boost for Gambian athletes.
Modou Lamin Jatta, technical coordinator for the marathon, said they have decided to increase the distance for the forthcoming marathon from 10 to 15 km.
O2 as he is referred to by many, added that men will compete in the 15km race while women will vie for the 10km race.
Organisations will battle for the 5km race, and junior athletes aged 8 to 10 will take part in the 3km race, he went on.
As organisers, they are not only limited to organising the marathon, but promoting athletes internationally as well, he stated.
The reason for increasing the distance of the race is because they intend to make it a half marathon and a full marathon in years to come, he added.
Ms Mbakeh Njie, Secretary General of the organisation, said registration for the marathon starts in earnest.
She thanked their partners, particularly Gamtel/Gamcel and called on others to join them.
Lamin Sanneh and Mariama T. Jallow who have both represented in country in England through Gambia Volunteers Trust thanked the organisation.
Read Other Articles In Article (Archive)