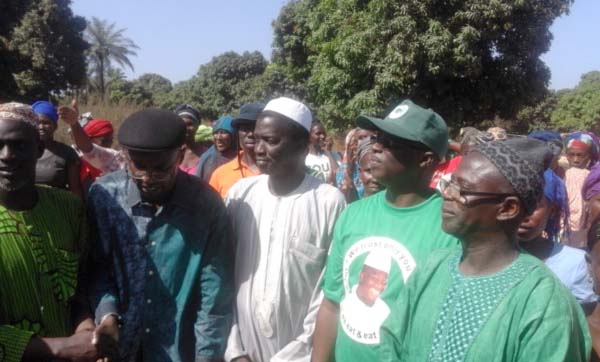 The Ministry of Health in collaboration with the Ministry of Environment recently handed over 5 wheelbarrows, 10 cutlasses, 10 rakes and 20 local brooms to Madina Salaam to further enhance the cleansing of the village.
Speaking at the handing over ceremony, held at the village, Environment Minister Pa Ousman Jarju advised the villagers to make best use of the materials.
He said he was very grateful to the people of the village because they are regularly embarking on cleansing exercise to get rid of any dirt in the village.
The minister said it is because of the frequent cleansing of the village that the two ministries decided to donate the cleansing materials so as enhance the exercise.
Hon Jarju said Madina Salaam will continue to be recommended for their wonderful effort and hard work.
He also promised that women of the village will also be supported to get water, electricity, and land for gardening.
Dr Omar Sey, minister of health, said even though 'operations clean the nation' was initiated by President Yahya Jammeh, the exercise is not political; it is for the benefit of the nation.
He said maintaining the environment cleaned reduce, by 50 per cent, the occurrence of sicknesses like diarrhea, malaria, common cold, fever and other sicknesses.
It can also help save part of the D800 million that the government uses annually to import medicine to The Gambia, the health minister said.
"If the whole country is doing cleansing like the way Madina Salaam is doing, there will be no sickness in this country then the government can use that money for something important too," he said.
Dr Sey thanked the National Environment Agency, Department of Forestry and the Alkalo and VDC of Madina Salaam because "without them, the village will not be at this stage in terms of cleanliness".
The health minister urged people not to only clean their environment during the national cleansing day saying the environment should be kept cleaned all time just like in Madina Salaam.
Abdou Colley, chief of Kombo South, said people should join hands in keeping the environment cleaned.
The chief executive officer of Brikama Area Council, Mamsir Jallow, emphasised the importance of cleanliness saying even in Islam, every Muslim should be cleaned in order to worship Allah.
Madam Fatou Touray, chairlady of the ruling APRC party in Kombo South, said it is not a surprise that the people of Madina Salaam take the lead in environmental cleansing because "the village is always in the forefront on whatever President Jammeh said".
She however appealed to the president saying the village needs garden because they have no land to cultivate.Electricity and water are also a problem in Madina Salaam.
Read Other Articles In Article (Archive)