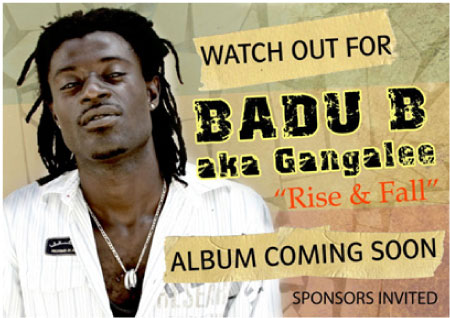 Badou B, commonly called alias Gangalee, has completed all preparations to launch his long-awaited album today. 
Badou revealed to journalists that he might not be well known at the moment in The Gambia but he had been in the Gambian music business since the 90s; in fact his music now "is stronger than before".
Badou B, who was in a crew called the Dallas Boys, is currently in The Gambia to release his 9-track album called 'Rise'.
All is set for 15 February for the grand launching at Alliance Franco, he said, adding that the album is a mature release that consists of positive messages.
According to him, after the release of the album, he would involve in a lot of projects among them is sponsoring the needy ones.
Asked why he named his album 'Rise', he said: "This is because the album is full of positive messages for his people.
He therefore urges the people to listen to the message in the album, saying they will enjoy it, and are strictly reggae songs.
Badou B said the songs in the album were recorded at Shy Boy Entertainment, some at Mandela records and most of the songs recorded at Sunland records of Hakeem.
"I got videos as well and they are shot professionally by the Tedugal video production company," he told Entertainment.
The Gambian musician went further to say he has very good collaborative songs with artistes like Saka Babs.
"Through collaboration with artistes like Pa Mboob, the people should know I have worked very hard on this album," he said.
"The radio advertisements are on and I am expecting to feature lot of Gambian artistes on the day of the launching," he said, adding that among them will be Jali Madi, Benjain, Rebellion, PaPa Lengthy, Hard Breaker, Sissasy, Ras Askia and many more other Gambian artistes.
All the performances will be backed by a live band performance by the Afro stars, alias Gangalee said.
"I mostly listen to one of the songs called "We gona make it" in the album. I did that song 2 times because Shy Boy recorded the song for me and Hakim remixed the song; that song is for Gambian artistes themselves telling them to show consciousness in their singing. "Let them sing something genuine, something that can help the younger generation," he noted.
He said the album will cost D100 a copy but anyone who comes to the launching will have a CD, and after the launching the album, it will be available at various recording studios across the country.
Badou B at the moment can be contacted on badounyang@gmal.com.
Read Other Articles In Article (Archive)