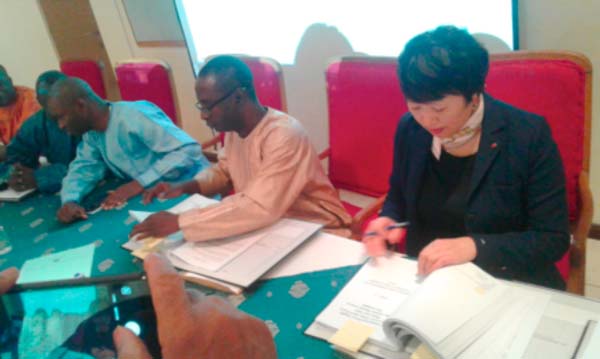 The National Water and Electricity Company (NAWEC) and Sinohydro Corporation, a Chinese company, on Friday signed a US$165 million project at a hotel in Kololi.

The project is aimed at providing a new HFO Power Plan with a capacity of more than 60MW as a medium intervention in order to provide adequate and stable power supply in the Greater Banjul Area.
It also seeks to lay the foundation for regional interconnection using OMVG energy project and the West African Power Pool.
NAWEC Managing Director Baba Fatajo said the project is as a result of the bilateral cooperation between China and The Gambia.
"Following critical needs assessment of priority intervention areas of the economy, the government of China through the government of The Gambia accepted to intervene in the energy subsector by developing a 62MW project in terms of additional generating capacity," he said.
Mr Fatajo said the project would also include refurbishment and expansion of the electricity transmission and distribution network.
"This project, when realised, will be a whole game changer in the power supply situation of this country," he said.
"Its scope of intervention is not only unprecedented but will go a long way in modernising our entire electricity generation and network as we could operate on more efficient generator sets as well as significantly reduce our technical losses, which continue to be a major challenge for NAWEC."
The minister of Energy and Petroleum, Fafa Sanyang, said if the project is successfully implemented, it would have wide ranging effects on the economy, including increased access to electricity, stable and affordable power supply which would also lead to the establishment of more industries and businesses, employment creation and poverty alleviation.
The vice president of Sinohydro for West and Central Africa, Lui Xiaomin, said the company is a Chinese state corporation and it is ranked number 1 in the fields of hydroelectricity, thermal energy, and renewable energies.
The Chinese company has expertise in the design, construction, operation and maintenance of energy generation and transmission facilities.
"The signing ceremony was finalised after series of consultations on both technical and financial proposals bearing in mind NAWEC's identified needs," she said.
According to Mrs Xiaomin, the technical component of the project that was finalised includes generation component of heavy duty fuel oil power plant, transmission and distribution lines and high and medium voltage substations.
The proposed plant, transmission and distribution facilities would be integrated with the existing power supply systems to provide an overall automated system.
Read Other Articles In Article (Archive)