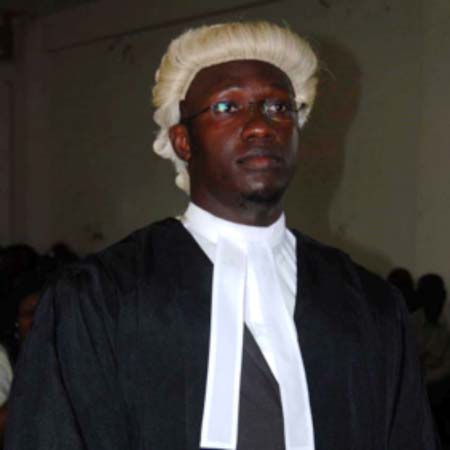 The legal adviser of the National Intelligence Agency (NIA), now renamed State Intelligence Services (SIS), has filed a complaint against personnel of the agency for allegedly attempting to murder him.

Bubacarr A.M.O Badjie has also filed a separate complaint against the SIS director general, Ousman Sowe, for allegedly directing the destruction of the torture chamber at the SIS, thereby tampering with evidence that could be useful in the prosecution of SIS officials.
According to information reaching The Point, Lawyer Badjie filed the complaints earlier this week at the police headquarters in Banjul but he was referred to Kairaba Police Station where an investigation panel has been working to unearth the substance in the complaints earlier filed against him by his boss, Ousman Sowe.
The attempted murder complaint came as a result of the events that took place at Badjie's house last week Friday, when operatives of the special operations unit attempted to arrest him.
These operatives were Pa Ebrima Faye, director of Special Operations, Alagie Ceesay, Officer Commanding Special Operations, Ebou Sanynag and one Mr. Kanyi all of the same unit, plus Kalilou Jammeh of Counter Intelligence Unit and Director General Ousman Sowe.
The second complaint, according to police sources, was filed against DG Ousman Sowe, whom Badjie holds responsible for the destruction of the torture chamber constructed by ex-DG Yankuba Badjie.
According to the complaint, the torture chamber holds valuable clues to a lot of cases of torture and alleged killings that took place under the roofs of the NIA.
When contacted last evening, Mr Badjie confirmed filing the two complaints to the police.
He elaborated on the case: "Last Wednesday, Alagie Ceesay and Ebou Sanyang first attempted to arrest me at my office but I refused because they have no such powers. This led to threats against me and so I had to go to the police headquarters to lodge a complaint. I was given two police escorts to accompany me to pick my files from the office."
The following day, Thursday, Badjie said, the same attempted arrest and threat were repeated when he came to work, by which time his official phone lines were all disconnected by the Mr Sowe, the director general.
"On Friday around 7pm, a team of four operatives came to my house to arrest me again; I refused to come down, advising them to seriously consider the crime of killing Solo Sandeng that hangs over their heads. They responded that this happened while they were doing their job and I was about to witness my own if I come down from my house," Badjie said.
The lawyer said he took these threats seriously considering the records of these operatives so he decided to file official complaints in the interest of justice and his own safety.
Read Other Articles In Article (Archive)