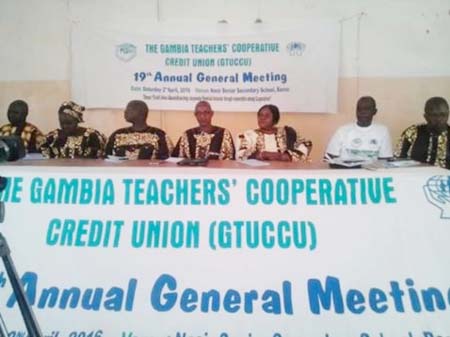 The Gambia Teachers Union Cooperative Credit Union (GTUCCU) has earmarked D800, 000 to be given to the Gambia College as part of efforts to return the college to its hay days.
At its 19th annual general meeting held in Basse, Upper River Region on Saturday, GTUCCU – with more than 8,000 members – passed a resolution to deduct D100 from every member in support of the college.
Though it was not stated as to which month the resolution will be effected, the money is expected to be remitted to the college "for the purchase of furniture".
The Gambia's premier tertiary educational institution had launched a popular appeal for support from alumni and well-wishers during its recent graduation ceremony, held last month.
In a public appeal, Gambia College Principal Aboubacarr Jallow said "furniture is a big problem in the college", while urging the outgoing students to form an alumni association to raise funds for the college.
"Every dalasi matters", the principal said.
In support of the resolution, Essa Sowe, deputy general secretary of the Gambia Teachers' Union (GTU) wrote on the social media that "the need to support one another is a noble duty."
The Gambia College resolution was just one among others but its importance is paramount, he said.
On the same platform, Isatou Ndow, vice principal of the Gambia College and Head of School of Education, expressed gratitude to the teachers' credit union for "honoring the Gambia College with this pledge."
"I cannot but say we are most grateful and happy.This shows that teachers appreciate the work that the Gambia College – our noble institution – is doing," Madam Ndow said.
The vice principal further called for ex-students in the diaspora to do a crowdfunding for the college, saying by just contributing 100 dalasi each, "we will be developing the Gambia College".
In a sideline discussion with The Point newspaper, the college principal, Mr Jallow, thanked the leadership and the entire membership of GTUCCU for "the worthwhile gesture".
"As I said at the graduation, we own the college; therefore, we should make sure that we return the college to its hay days.The teachers have been pacesetters and have demonstrated this once more," the Gambia College principal said.
Mr Jallow assured of his commitment to turn things around "with the support of all well-meaning people".
He reiterated that "Every butut matters, every idea matters" in the drive to return the college to its hay days, adding that the earmarked support from the GTUCCU will be "for the benefit of college and college alone".
Read Other Articles In Article (Archive)