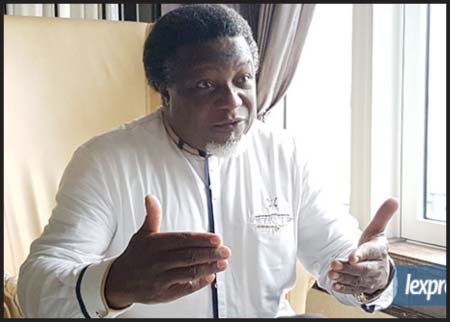 Eric Chinje, an international consultant in Communication and Development, said that one of the reasons why people migrate could be that the policies a particular country is pursuing might not be right policies that reflect on the lives and livelihood of its people.

"Policies matter and we need to push our councilors, parliamentarians to rethink what they are doing, there is no country in the world that cannot find what they can do or to transform their own internal resources since God gave every community a resource that they can transform and make a living," he said.
Mr. Chinje made these remarks on Tuesday at a daylong training which targeted 30 journalists in The Gambia, geared towards generating an interest among the journalists to give them a deeper understanding of what the migration issues are.
The programme is funded by the German Foundation Robert Bosch Stiftung and co-organised by the Erich Brost Institute for International Journalism at Technical University Dortmund, Africa Institute for Media, Migration and Development (AIMMAD) and the African Media Initiative (AMI).
He argued that countries get to a level when there is high rate of migration because their policies do not pay off and also when they don't adopt the right policies that create a linkage between real life and development policies.
He stressed that the problem with African journalists is that they tend to limit their views on migration on people that are trying to cross the Mediterranean Sea or those that are struggling to cross the Sahara Desert, adding that, that is not all it contains.
"Migration is a much bigger story and this is why we are trying to deliver; and it is a story that is trying to bring about the quality of development because people migrate to get away from difficulties. It is important as journalist to know what is pushing the civilians out of their country," he said.
He further emphasised that they want the journalists to take a positive attitude towards migration; positive in the sense that it would allow people to learn more on their country than they know right now.
"One of the issues at this time in history is migration," he emphasised, while challenging all journalists in The Gambia to look at migration in a different perspective – a way that would help the government to find ways to make The Gambia a place where its people will love to stay.
"Human beings are conservative beings and they love to stay where they are born and it takes a shock sort of, to make them move away from their natural environment and it is necessary for us to know what is it that is making people to leave their natural environment," he said.
"Climate change, migration and trade are all inter related" he said, adding that when countries cannot produce, they would not be able to trade and they can only be able to produce when they are not affected by climate change. And if a country is affected by climate change, it can trigger migration because life and livelihood will become a challenge.
Read Other Articles In Article (Archive)