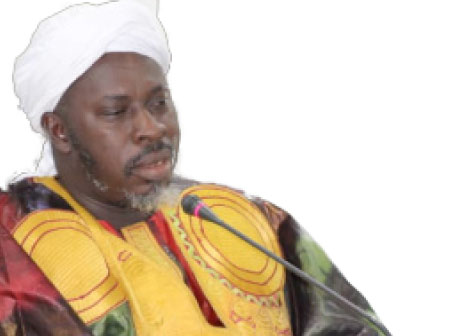 Top Islamic cleric Imam Ba Kawsu Fofana on Thursday 6 Feb. 2020 testified before TRRC, accusing Imam Abdoulie Fatty as someone who instigated former President Yahya Jammeh against him. He added that Jammeh also used the Supreme Islamic Council (SIC) as an instrument to execute his orders.

Born at Jarra Sankunya, Imam Ba Kawsu recalled that in 2012, Fatty delivered a sermon on 18 May, saying that he (Ba Kawsu) should be arrested and punished. According to him, after Fatty's pronouncement, he was arrested on May 31 by Yankuba Badjie and taken to the NIA for nine days.
"I was beaten and my finger was broken by Jammeh according to Ousman Sonko, who was part of those torturing me. Jammeh was the commander of those who broke my finger, therefore, it was him. About 10 people were part of those beating me with pipe and covering my head with nylon bags."
After that beating, he said, he was interrogated and asked why he called Jammeh the name Banjul Mansa (the president of Banjul) and told to also change his way of preaching towards Jammeh.
He revealed that he was a "big marabout" and to disappear was a small thing to him.
He recalled that on 15 August 2012, Yankuba Badjie met him with a team at his mosque, and told him that he was needed by the NIA.
At that time, he said, he had heard that he was to be arrested.
"I asked them to give me time to pray two 'rakas'. I went to my house and prayed two rakas, where they followed me and that was the time I disappeared from them. I am a big marabout and to disappear is a small thing for me. I went to exile in Senegal where the Jabbie Kunda clan welcomed me."
Imam Ba Kawsu said he learnt more than 50 Islamic books through his father; adding that he memorised the Qur'an within one year and four months.
In 1992, he represented Gambia in a Qur'anic competition in Saudi and got a scholarship to study at Qur'ana University in Saudi.
On how he got embroiled with the SIC, he answered that their mandate finished in 2008 and former President Yahya Jammeh told them that there should be voting.
He testified that the voting took place on 16-17 August 2008 and he was supposed to contest with Banding Drammeh but he (Banding) was banned by Jammeh.
"It was then Muhammad Lamin Touray decided to contest and the voting was conducted by the IEC."
He added that there was no voting and Muhammad Lamin Touray was chosen as the leader of SIC.
After that, he continued that he went to Touray and told him that he knew how the elections went through, saying he prayed for him and assured his allegiance to him.
On the sighting of the moon, he indicated that before the Eid prayers in 2008, the SIC members had a meeting with Jammeh, who asked them whether Gambia could pray on the same day with Makka.
He added that was the time they went to meet the people around the country and anywhere they requested for the public to pray with Makka, but majority didn't accept.
"They came back to Jammeh and showed him receipt of payment signed by the imams; that the imams have agreed to pray the same day with Makka. That was the time Jammeh said everybody should pray the same day with Makka."
In 2009, he told the commission that Lamin Touray declared the moon was sighted at Dasilameh Sanghajore and Makka and that everybody should pray.
After the Eid prayers, he testified that Touray said he was disappointed because Jammeh gave orders for the citizens to pray but some did not.
Imam Kawsu stated that the president replied, saying those that didn't pray is no more SIC's business and that he (Jammeh) will handle it and anybody who didn't pray would never pray again.
During Tobaski prayer of the same year, he recalled that that those that didn't pray were more than those that prayed.
"Jammeh was disappointed because he was informed that the whole country agreed to his decision. They told Jammeh that I told the people in my sermon not to pray but he doubted them and asked how that happened? At that time, he (Jammeh) said he would start investigating me and that was the time NIA started following me."
He confirmed that he was called from Banjuliding police station, and was told that the government wanted him and the SIC to speak in one voice because the SIC reported that he used to speak against them.
Ba Kawsu revealed that in 2010, Touray went to State House and held the Qur'an and said: "Dr. Dumbuya and Ba Kawsu are the problems in the country."
When Dr. Dumbuya indicated in his sermon that Gambia cannot pray the same day with Makka, the Imam said Touray took that to Jammeh and Dumbuya was banned from preaching on radios.
"My first meeting with the SIC, it was to agree with them on their decision but I never agreed. During the discussion, Fatty asked me why I insulted the Jolas or always discussing about them, I told him we are here to talk about the moon and not Jolas."
On the allegation that he once insulted the Jola tribe, he said that never happened, adding that Fatty told Jammeh that he insulted his tribe just to make Jammeh angry with him (Ba Kawsu).
"Fatty had insulted all tribes in the country and even Yahya Jammeh himself. After the meeting, SIC wrote a letter to me that the ban has been lifted."
Read Other Articles In Article (Archive)