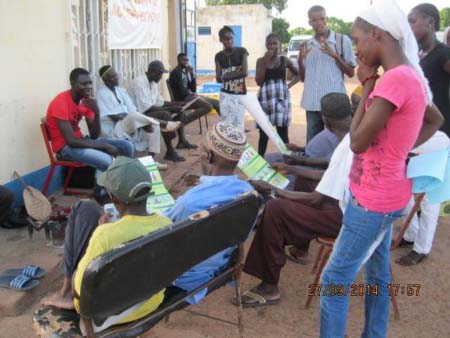 The Association Working Children and Youth (ACWY) in Jarra Soma has begun a routine digital campaign on the Ebola virus disease in villages in the Lower River Region.
At the campaign launching on Saturday evening at the Mansakonko Area Council, child rights activists embarked on a road march through the busiest places in Soma Town featuring hundreds of children, mainly students on "one-on-one" discussion with the help of giant banners.
The group also mounted a video show featuring a drama activity on Ebola by members of the Ba'lal Rural Empowerment Development Initiative (BRESDI) in collaboration with Peace Corps Volunteers in The Gambia, after which the children participated in a quiz on Ebola with handsome prizes.
The president of the Jarra Soma Association of Working Children and Youths (ACWY), Alhasan Bah, said the outbreak of the Ebola disease made it obligatory for everyone to share meaningful information as a preventive measure.
Amadou A Bah, program officer of BRESDI, who co-directed the 50-minute Ebola drama production, said the characters in the film were carefully selected and trained at the Soma-based Silicon Institute to present accurate information on Ebola in the dominant local language in the region, Mandinka.
Mustapha S. Koli, of the Women's Bureau office in the Lower River Region said members of the AWCY in Soma demonstrated high commitment and voluntarism in sharing Ebola messages with people in the street and markets.
He welcomed the good turnout of girls to learn the facts about Ebola through the video projection.
Karim Darboe, regional health promotion and education officer at the Lower River Regional Health Directorate, said the government has designed numerous ways to get people involved in the campaign against Ebola.
He cited the free phone number,1025, which people could call to make enquiries and report suspected cases.
Read Other Articles In Article (Archive)