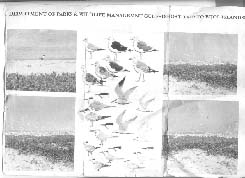 Mr. Lamin Manneh, the park warden for Bijol Island, has said that the Island is an important place for the breeding of a bird colony.
Mr. Manneh made these remarks in an exclusive interview with these reporters on Monday May 25th 2009, at Bijol.
According to him, Bijol Island formed part of Tanji (Karinti) bird reserve. It covers an area of 6.12 square km and managed by the Department of Parks and Wildlife Management of The Gambia.
He said that this marine habitat is the main offshore island that provides home for migratory bird species, that takes advantage of the absence of human disturbance. There is also an abundance of fish species in those waters.
Mr. Manneh further revealed that the island is covered with low growing saline-tolerant vegetation such as the beach morning glory, and baobab trees.
He added that the island is also blessed with bird species such as Royal tern, Caspian tern, Cirey headed gull, Whimbrel long tail, Comoron, Little warbler, just to name but a few.
Mr. Manneh pointed out that the island provides shelter for resting of the marine turtle and other sea mammals, and the number of nesting birds gives an indication of fish stock in that part of the Atlantic Coast of West Africa.
According to Manneh, bird monitoring program has been conducted in the island by Professor John High, a British national residing in The Gambia. He also concluded that this monitoring has played a significant part in capacity building of the protection of conservation of Avi-Fauna and their related habitat.
Read Other Articles In Article (Archive)