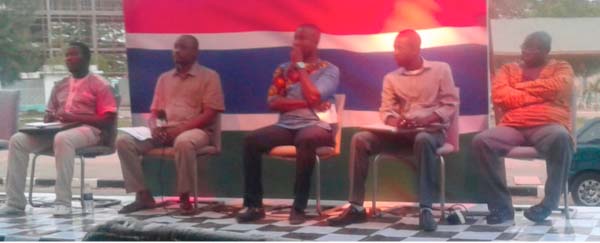 The five Aspirants vying for National Assembly seat for Banjul North Constituency have come face to face in a debate courtesy of Eye Africa TV, held yesterday at the July 22nd Square in Banjul.

Ousman Sillah of the PDOIS, Modou Sillah, an Independent candidate, Modou Lamin B. Bah of the UDP, Modou Mboob of GDC, Pa Ousman Cham, an Independent candidate, and Samba Njie, an Independent candidate, who didn't turn up for the debate.
The debate mainly focused on what the aspirants would do for the constituency if elected into office and the kinds of laws they would introduce at the parliament.
Ousman Sillah of PDOIS, for his part, said that if given the opportunity he would be the 'eye, ear and mouth (voice)' of the Gambian people at the law-making and national oversight body - the National Assembly.
In his remarks, Modou Lamin B. Bah said if elected he would like to change a lot of things but his main focus will be based solidly on constitutional reform, which will be done only when the people of Banjul North voted for him
He also said he would work hand in glove with his fellow parliamentarians to ensure there is serious constitutional reform for the better.
"We can see that there was limited democracy in the country and freedom of speech was neglected as well but the laws were there to be implemented but they were not enforced and this is one of things I and my colleagues will stand upon and see that are done."
Independent aspirants Pa Ousman Njie said he would work on improving the lives and welfare of the people of Banjul, to try his best to work to expectations.
He said the people of Banjul North will not let him down because he is their choice.
Another Independent candidate Modou Sillah, who called the National Assembly his home, said he is currently working at the National Assembly as a clerk and technical adviser to the MPs hence knows there well and can be a good representative of the people if elected.
Another candidate Modou Mboob claimed he is the right candidature and the only person who can salvage the people of Banjul North. He has no doubt therefore that he would emerge winner of Banjul North, as he is in the hearts of the people.
Read Other Articles In Article (Archive)