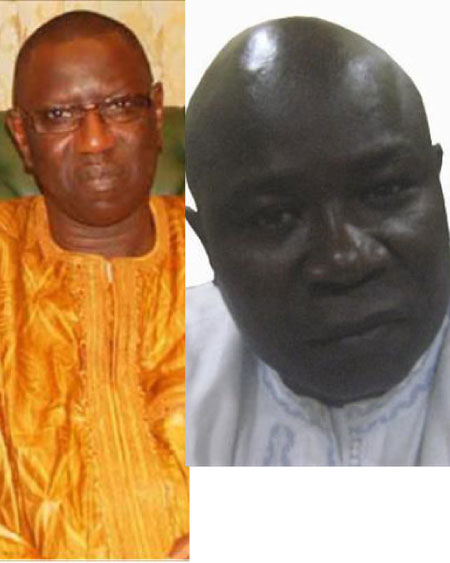 The Independent Electoral Commission yesterday accepted the nomination of candidates for the ruling Alliance for Patriotic Reorientation and Construction (APRC) for the forthcoming Local Government Elections.
The nomination of candidates, which is expected to be completed tomorrow Saturday, will be followed by a two-week official campaign period.
In the Kanifing Municipality, the first candidate to be nominated was Yankuba Colley for the mayoral position of the Kanifing Municipal Council. He was accompanied to the IEC Regional Office in Kanifing by Hon. Sulayman Joof, APRC desk officer, Hon. Fabakary Tombong Jatta, Hon. Ousainou Sainey Jaiteh and other APRC party militants.
Speaking to journalists shortly after his nomination, Yankuba Colley thanked his party leadership for having chosen him again as the APRC party candidate for the mayoral position in the forthcoming local government elections.
The APRC as a party, he added, will continue to do what is required of them, according to the laws of the country and the IEC.
"We will try to maintain the peacefulness in the country during and after the elections, in the interest of development," he said.
Noting that his victory is a foregone conclusion, Colley said "development starts at the grassroots level because people determine what they want in terms of development and we in return provide it for them as taxpayers".
Also speaking to journalists after his nomination, Sulayman Dawda Jammeh of Bundung Six Junction Ward said this was his first time to contest for the position, because he is development-oriented.
Vowing that he would do all he could to bring more development to his ward, Jammeh said it is the people that will vote them into office, and it is the same people who they should represent and serve.
According to him, development is for the people, because they are representing the interest of the people at the council level and would ensure that their priority needs are taken care of.
Ms. Mariam Banna Badjie, APRC candidate for Tallinding ward, said she is seeking her second term, and wanted to be given another opportunity to accomplish some of the development plans she had in the offing.
While commending President Jammeh for selecting her as the only female candidate in the Kanifing Municipality in the Local Government Elections, Badjie said some of the major achievements she registered during her tenure included road rehabilitation, a recreational center, and health facility, among others.
She urged the youth and the women in her ward to rally behind her, and give her their votes come 4th April, assuring all that she would do more and better if given the opportunity to serve another term.
Ms Badjie also used the opportunity to call on her opponent, whom she claim is her uncle, to rally behind her and work for national development.
Modou Pika Jallow, nominated APRC candidate for Abuko, underscored the importance of the elections, noting that it is through such that people benefit from developments like roads, hospitals, markets among others, in the wards.
'The people of Abuko ward know my input and my capabilities and what I can do to take this ward further in terms of development,' he said, adding that thanks to President Jammeh, Abuko ward continues to enjoy a wide range of development projects.
Commenting on his plans, Jallow promised that if elected again, he plans to build a modern bakery for the youth of his ward and a clinic for the women, most of whom travel to Fajikunda or Banjulinding for treatment.
Momodou Jaiteh, nominated candidate for Kololi ward, said he has been in the development arena ever since, before becoming a councillor.
According to him, he with others initiated a health centre for the community, a scholarship package for about 100 children, among other developments in his ward.
Meanwhile the APRC candidates nominated in the Kanifing Municipality are as follow: Yankuba Colley for mayoral position, Alhajie Bahoum for Bakau Newtown ward, Abdoulie Jallow, Old Bakau ward, Sheriff Sarr, Old Jeswang, Kebba Ceesay, Jeshwang Ebotown ward, Mustapha Sosseh, Kanifing North ward, Momodou Jaiteh, Kololi ward, Yusupha Sanyang, Bakoteh ward, Basirou Camara, Dippa Kunda ward, Jerre Sanneh, Latrikunda German ward, Salieu Manneh, Manjai kunda ward, Ebrima Tamba, Bundung Bantaba ward, Sulayman Dawda Jammeh, Bundung Six Junction ward, Alieu M. Sallah, Sererkunda West ward, Alhajie Ousman Mbemba Gassama, Fajikunda ward, Pa Ousman Fatty, Latrikunda ward, Ms Mariama Banna Badjie, Tallinding ward and Modou Pika Jallow for Abuko ward.
Elsewhere in Banjul, the APRC also nominated Samba Faal as its mayoral candidates and nine other candidates for the councilor positions.
Nominations continue today with NRP and tomorrow for PDOIS and independent candidates and candidates from any other party, according to the IEC.
Read Other Articles In Article (Archive)